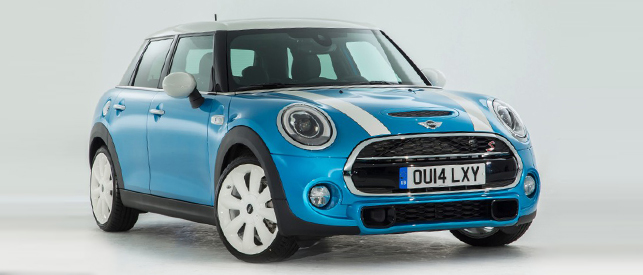 5

Jun

14
New MINI five-door unveiled
MINI has unveiled a five-door version of its basic hatchback model for the first time. The new model doesn't just have extra pair of doors; it has longer wheelbase, bigger boot and more headroom. There are three seats in the back for the first time, along with a boot that's grown from 211 litres to 278 litres.
This extended version of the MINI just looks a little podgier. It almost looks like a lowered Countryman. There's a brand new Cooper SD version, which is seen for the very first time in the five-door before becoming available in the three-door later this year.
The new Cooper SD version has 2.0-litre turbo diesel engine producing 170bhp, which is 29bhp up on the old 2.0-litre unit. The sprint from 0-62mph takes 7.4 seconds, which is half-a-second quicker than the old three-door SD. The fuel efficiency has increased at 68.9mpg, with CO2 emissions of 107g/km.
The car pictured is the quickest in the range, able to hit 62mph in 6.9 seconds with the manual gearbox and 6.8 seconds with an automatic transmission. Buyers can also pick a Cooper and a Cooper D, boasting petrol and diesel 1.5-litre engines respectively. The Cooper gets 134bhp, can go from 0-62mph in 8.2 seconds and will return 58.8mpg. The car will help MINI to boost sales in markets like the US. After the release of the five-door, MINI will release a Clubman and a Convertible. The Clubman will be the pick of the range. Mk3 MINI hatchback gets a new five-door model; on sale in the UK in October this year, priced from £14,350.