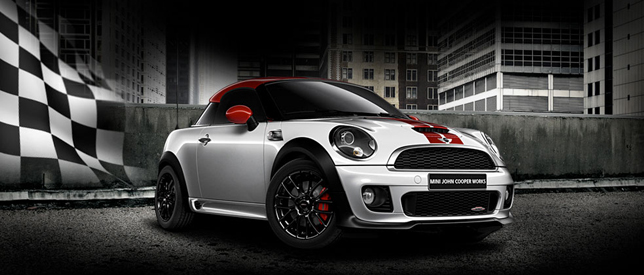 12

May

15
The new Mini Cooper 'Works' is faster than any of its predecessors, with rewarding drive
If you ask which one is the mightiest and quickest accelerating Mini ever built? The answer would definitely be: the all-new Mini John Cooper Works 2015. This hottest hatch is powered by one of best engines from BMW; the 2.0 litre engine which gives JCW a boost to its torque by 23% and peak power of 10%. Thanks to the new pistons, induction, exhaust and turbo systems the new JCW surely has more power than the Cooper S.
What's New?
A major upgrade has been done to the differential where brake-actuated torque vectoring set-up has been used, shunning the proper mechanical limited-slip differential.
The front suspension has been modified and now includes strengthened and lightened supports and wishbones, uprated dampers and springs, lightweight support bearings, new tube-shaped anti-roll bars and triple-path strut mounts. It would have been a shame if the rear suspension had not been upgraded too, so they have toughened and lightened up the multi-link rear suspension.
Well Managed Interior
The interior is also very well managed, broad and grippy, part-leather bucket seats are optional. The interior is to some extent is a bit simplistic, but the white chequered detailing with red highlights looks awesome on black plastic trim.
The first batch that went off the production line in the UK is automatic. The working of auto shifts is brilliant and they lock up perfectly even on low revs. The handling on the other hand, excitable, direct and hyperactive, as compared to its predecessors.
How much will it Cost
This 4 cylinder 1998cc turbocharged petrol car is offered only for £24,380 and churns out 228bhp with torque of 236lb-ft. It is backed by six-speed automatic transmission. The top speed is 153mph and 0-62mph takes only 6.1 seconds with combined fuel economy of 49.6mpg.