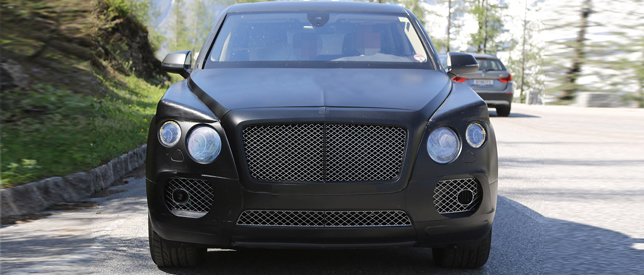 12

Jun

14
We recently reported on the Bentley GT3 which is the performance version of the Continental GT and now we can show exclusive images of the upcoming Bentley SUV due in 2016. The spy images reveal the showroom model will distance itself by some margin over the EXP 9 concept that previewed it back in 2011.
A Continental GT like face has been crafted onto the front end. Look closely at the images and you'll see, Bentley has added some rather globular cladding over the front and rear wheel arches in an attempt to hide its more rounded styling. The concept car shown in Geneva in 2011 was designed with a boxier stance, featuring squared off panels and a more rigid front end. The number plate and rear lamp positioning seems unchanged from the concept.
The nameless 4×4 is not only the first SUV from Bentley it will also be the first model from the marque to feature a petrol-electric powertrain. The engine fitted beneath this particular test mule is the familiar 6.0-litre W12 engine but it's expected the brand will also offer the more frugal 4.0-litre twin-turbo V8, too.
When launched in 2016 the Bentley SUV will cost in excess of £140,000 with prices likely to rise over £200,000 for the range topping models. Even before its official reveal the popularity of the SUV is evident, with Bentley already raking up over 2,000 pre-orders. Although Bentley may initially have the luxury SUV market to itself, shortly after its launch Rolls Royce is expected to show its yet to be named SUV.