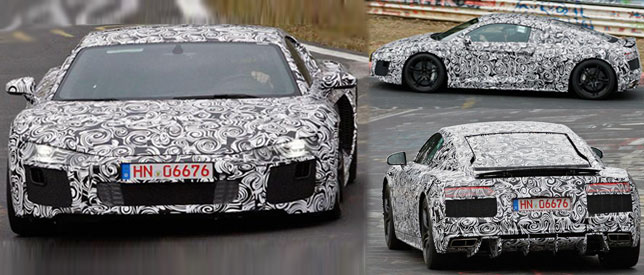 19

Mar

14
Spy Shots give us a glimpse of the new Super Car
The Audi R8 is a huge success for the German car maker and replacing it is no easy thing. The sister car to Lamborghini Huracan is taking shape as shots reveal a fully disguised sample undergoing tests at the famous Nurburgring track in Germany. The only real change R8 went through was getting a facelift last year since its launch in 2006. However, the new model will get a full revamp inside and outside. The spy shots show that the trademark sideblades will stay.
The front bumper looks more ominous with wider air vents and redesigned grilles which will be a feature on all future RS cars. The most noticeable addition can be seen at the back, with an aero-optimised rear diffuser located below the bumper. A new exhaust system with squared-off tailpipes can also be seen.
Audi will not be following its rivals such as Ferrari, McLaren and Porsche down the hybrid super car road and will give the R8 a refreshed version of the current V8 and V10 taking the power up to 450bhp and 570bhp. A very first for the new R8 will be cylinder deactivation and stop-start technology which means a 10 per cent improvement in fuel economy. Audi will be using a carbon fibre bonnet (CFRP) and roof as well as 23% carbon fibre in its assembly to save 23kg. Audi will try to keep the weight below 1,500kg. Groundbreaking suspension will see glass fibre-reinforced polymer coils save weight without compromising performance.
The interior will take advantage from a thorough overhaul, with most functions built-in into a new MMI system. Digital dials are also likely, as is a digital rear-view mirror that uses a hi-res camera to produce an image on a screen. The new R8 V8 is expected to cost from just under £100,000 when it arrives next year. We will keep you updated with all the latest news on the new Audi R8.