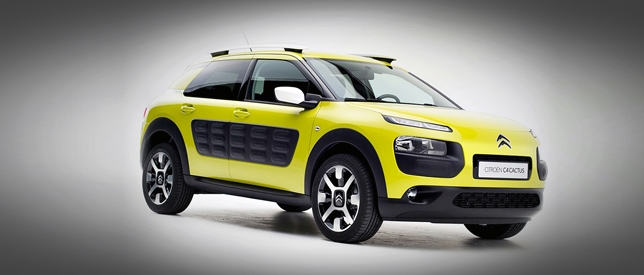 3

Jul

14
Cactus C4 will start from £12,990
Citroen used to be famous for quirky designs, affordable and different but something happened and it changed to be dull, expensive and boring. The new Citroen C4 Cactus sees the French manufacturer take a back-to-basics approach.
Instead of building something simple that will rival VW Golf, Citroen wanted to break the mould and make something for today's drivers. The C4 Cactus is now on sale, starting from £12,990 and rising to £18,190.
It is also different from other cars as it looks the same to the concept version seen in 2013.  One of the most striking features on the car are these AirBumps, which also appear on the car's front and rear bumpers.
The air-filled plastic bumps are designed to act like bubble wrap and so help prevent damage caused by low-speed collisions. Buyers will be able to choose between ten different exterior colours, with four hues for the Airbump panels and three interior themes.
The Citroen C4 Cactus is now on sale in the UK and will cost from £12,990 for the entry-level 74bhp PureTech petrol model in Touch trim, rising to £13,390 for the same 81bhp variant, with the most basic diesel model setting you back £15,390. In this version the C4 Cactus gets a seven-inch touch screen, LED daytime running lights, DAB digital radio and cruise control.
Citroen has confirmed that the C4 Cactus will arrive on our shores with four engines at the UK launch in October. The first are a pair of three-cylinder petrol engines, one turbocharged and naturally-aspirated, making 81bhp and 109bhp respectively. The diesel models both have a 1.6-litre capacity, and both meet the strict Euro 6 emissions regulations, with 91 and 99bhp each.
Citroen is planning on giving people a new way to pay for their Cactus too. Buyers will be able to choose a monthly price plan similar to a mobile phone contract, with insurance, finance and other costs rolled into a single monthly payment or even choose to pay per mile covered although at this stage they were not clear on the details of how this kind of scheme would work in the UK.