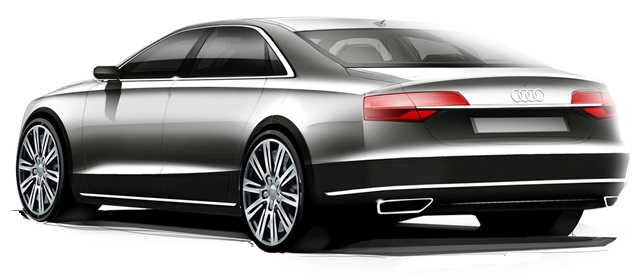 14

May

15
Audi A8 gets extra clean and efficient engine line-up for 2015
The flagship Audi A8 has been updated with extra clean and extra efficient engines. There will be a new kit and sports trim added to the line-up. The prices will remain same for the new model starting from £59,585.
Let's start with the new Audi engines. The A8 basic 3.0 litre V6 TDi has been confirmed with a power boost of 254 bhp to 258 bhp. The carbon emissions have dropped to 149g/km and will save owners £15 every year in road tax.
The flagship engine has a displacement of 4200 cm3 or 4.2 litre from a V8 TDI setup. Audi claims a decrease of 5g/km in carbon footprints, now standing at 189g/km. Petrol engines include 6.3-litre W12 and 2.0 litre TFSI with electric hybrid facility. The 6.3 litre W12 is designed to crank out 493bhp and is carried over from previous versions without any changes.
The sports executive specifications will be replaced with new sports trim and s-line bumpers with similar side skirts. A 19-inch seven-spoke alloys and LED headlights will be offered. The new infotainment system is outstanding and you will get a 600-Watt Bose sound system with Wi-Fi hotspot support to further enhance your driving mode
Audi Sport models will start from £65,825 for a 3.0 litre TDI, a 4.0 litre sport model will be available from £76,435. There will be no long wheel base model available in the new Audi A8, because of no demand.
HDD satellite navigation and touch sensitive MMI Infotainment system will be available on all A8 trims as a standard. A reverse assist camera will be available on the SE trim, an extra kit of equipment including keyless entry, power operated boot door,  soft close door and 22 way electronically adjustable comfort seats will be offered on the SE trim as well.
Order books are now open for the 2016 A8 models and sport models will go on sale in June this year.