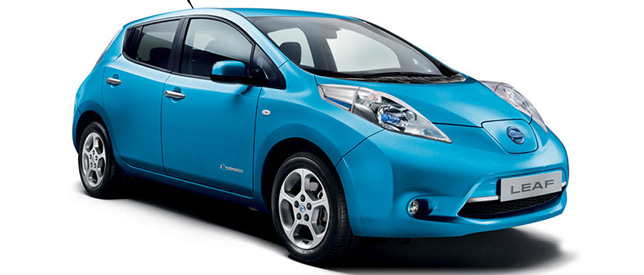 23

Feb

18
It has strong features with good practicality
Nissan Leaf is considered as a milestone in Electric cars
There is a lot of variety in electric cars available in the market with good repute and performance; some are exceptional ones in them. Nissan Leaf is one of them. It is considered as a legend and milestone in electric cars division due to its extraordinary stylish body structure, impressive designing, comfortable interior and above all great performance with Zero Emissions rate.
Nissan Leaf is a powerful electric vehicle with very low running cost. Though it is a little bit expensive if we compare it with its electric cars, such as we have Toyota Prius hatchback, VW Golf hatchback, and Ford Focus hatchback but Nissan Leaf is an impressive item in its field.
Electric Engine is powerful
There is an electric motor which is capable of 108bhp. The Nissan motor is impressive in its behavior. It gives a performance in running. Top speed of this vehicle is 90m/h and it takes 12.0 seconds to reach from 0-62m/h. It is perfect for urban driving.
Comfort, smooth and quiet driving experience is offered by this hatchback. This motor is equipped with the one-speed automatic gearbox and front wheel drive system as standard. Performance of this electric vehicle is great in all dimensions.
Quality features of Nissan Leaf
Nissan is a worthy name in the automobile industry. It is considered a giant of this industry due to its valuable products. Its products are well built and designed. Quality features are arranged in its products. In Nissan Leaf Electric version, Nissan has used regular features but with outstanding quality to give elite experience to its customers.
There are 3×3 point rear seat belts, anti-lock braking system, audio remote, body colored bumpers, dual zone climate control, adaptive cruise control, traction control, standard air bags with side curtains, heated seats and mirrors, electric mirrors and windows, PAS, lumbar supported seats, parking sensors, remote and central locking, ISOFIX children seats anchor points, folding rear seats, CD player, different type of alarms, indicators and alerts, alloy and steel wheel, sat nav and steering wheel rake and reach adjustment along with outstanding and dashing infotainment system and perfect safety kits to give best performance and best safety respectively.
Its exterior and interior are unique
Nissan Leaf electric is well designed and engineered. Its exterior and interior are great with unique and dashing body structure. Its exterior is well built and well designed. Eco-friendly Leaf Electric is unique in its style. It has a dipping nose with bid headlights along with shark mouth front bumper with the grille.
Sides are simple and plain, the roof is high and flat. The tail is impressive and with good ending notes. Tail lights are impressive. Interior is great with dashing stylish touches in it. Simplicity and modernity can be seen everywhere in the interior.
The dashboard is impressively built. Interior is quite airy and roomy. Enough space for legs and heads of the passengers. The steering wheel is in a good position with good adjustable systems. Overall interior is good to be in. Both exterior and interior are impressive and practical in their approach.