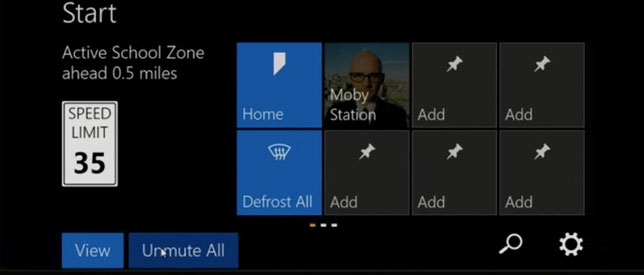 16

Apr

14
Drive Your Car on Microsoft Windows 8 – Windows in the Car Connected Via Tech Radar
As the information technology is evolving at a fast pace and almost every other day we get to see something new and utterly different from what we have been seeing our whole life. Smart phones became an important part of our day to day routine, organising our daily schedules, navigating through busy roads, having fun or whatever you can think of. Seeing this opportunity, many of the car manufacturers thought of providing the customers with hi-tech infotainment systems that can pamper their daily needs. Conventional infotainment and navigation systems were lacking that and the customers were looking up to tech companies for more user friendly alternatives.
Two of the biggest giants in the industry, Apple and Google have already been up to that and supplying some of the largest automakers with in-car infotainment systems. Some of them have results better than others, it's about time when Microsoft also took the initiative and decided to try their luck into the automotive infotainment business. As expected, its latest system "Windows in the Car" via Tech-Radar plays exactly on Windows Phone Concept. Like Apple's Car-play, it is also an app-based system which is brilliantly integrated into car's touchscreen display system. All of you who are already familiar with Windows 8 or Windows Mobile, can get a hold of it pretty quick.
Between various menus in the system, users can easily swish and access various functions like Music, Maps, by touching that app icon on the screen. Many more app among Spotify, Radio, Amazon MP3, Xbox and Maps will be available after the launch of this system. Microsoft has begun testing this system on the vehicles in the real world and ironing out any bug found. Microsoft is hoping to find a better solution for driver distraction issue when the vehicle is in motion; they are trying to figure out some ways to implement more driver friendly interface. It is also in consideration to provide users with call making and email reading attributes.