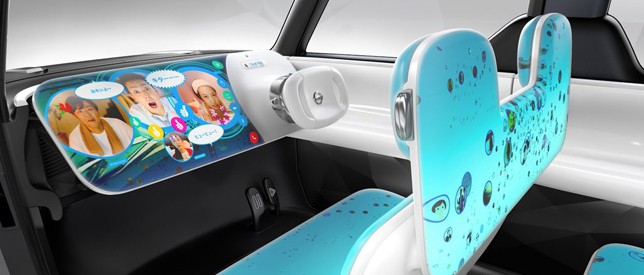 8

Oct

15
Nissan Teatro is a Wacky Concept for Social Media Lovers
The all-electric Nissan Teatro for Dayz concept will be on display at the Tokyo Motor Show at the end of the month. It is designed to appeal to the next-generation of drivers who are growing up in an ever-increasing digital age and is mainly focused on connectivity and technology.
Nissan has come up with a new term 'share natives' to describe the type of person this vehicle is designed for. Nissan says that 'share natives' are constantly sharing experiences and stories online, and connecting with friend on social media. The new concept comes loaded with a host of tech to keep the 'share natives' happy.
The interior has a lounge style seating which allows passengers to turn and face one another, while the door trims, dash and seats have all been fitted with digital displays which 'serve as a blank canvas for expression.
All typical buttons and dials have also been replaced in favour of voice control and motion sensors, which control the air conditioning as well as an audio system. The exterior sees Nissan's familiar design cues such as narrow headlamps and v-motif grille.
The Japanese manufacturer says that the design elements doesn't portray speed, size or elegance but, "this car's identity belongs to the owner, and design assumptions we make just limit their creativity."
Nissan's Product Planning General Manager Hidemi Sasaki said, "Share natives feel that time spent in a car should be time for connecting and sharing experiences with friends," He also added, "We can no longer attract their attention with the same old values."
The Nissan Teatro for Dayz concept could "be seen as an indication of what people will expect of EVs in the future."