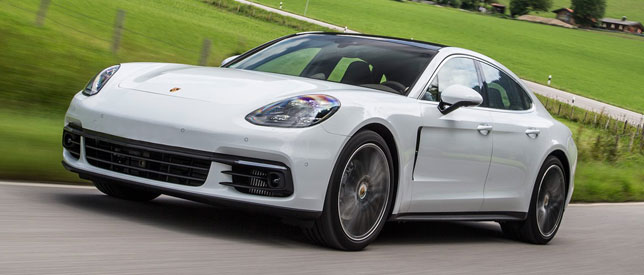 19

Sep

16
An even improved model with high-performance driving and the way it looks is impressive
The second generation of Panamera has been launched from German Sports car maker, Porsche. It is the four-door model that gives a comfort of a saloon family car and a performance of a sports car. It has been enhanced by the sophisticated series of most modern technologies on board and chassis are even firmer and advanced to give some solid performance.
What it looks like?
The all new Panamera has an improved way of performance and it looks even classier and smarter where the experts said it is a classic beauty. The second generation of the Panamera is an especially designed model where it gives an impression of being a 911 from the rear.
It is a longer and stronger model that has been redesigned to create some more room inside the cabin. Especially on the back seats, the passengers travelling in the back seats are exclusively considered for comfort and ease. New chassis are lighter, more rigid and stiffer while being more versatile than its predecessors. It is a long wheel base version that has shooting brakes for the first time in the Sports Turismo.
Since its launch in the UK, it has been offered in only one body style but there are three engines offered. All three engines are entirely new and with every engine, you will get an all-wheel drive. This feature gives a serious challenge to its rivals where BMW 6 series Gran Coupe, Mercedes S Class, Mercedes CLS and Maserati Quattro Porte. Every model has its own ambience and comfort level.
Porsche Panamera engines
Porsche Panamera engines are the real power machines and 440 horsepower from 2.9-litre twin turbo V6 petrol and a 422 horsepower from the 4.0-litre twin turbo V8 diesel. Both engines are exclusively powerful and efficient. Both of them are badged as 4S but the 4.0-litre twin turbo engines are capable of generating 550 horsepower from V8 version but it has exclusively been badged as Turbo.
There are not many trims offered on the Panamera model but Porsche has linked the Panamera equipment with the engine and named it as an S4 model. A great range of optional features has also been introduced on the Panamera models. Porsche is a premium brand and famous for its sports cars but the Panamera speaks a different language.
Apart from Porsche Panamera V6 petrol and Diesel engines, there are several hybrid variants about to come and will join the range. For the rear wheel drive lovers, Porsche has introduced a rear wheel drive model as well.
Porsche has exclusively fitted its Panamera with its well-known PDK eight-speed automatic transmission with dual clutch configurations. The sad news is that Porsche has not introduced even a single manual gearbox across the Panamera line-up.
Porsche a premium sports car manufacturer in the Germany and they have loaded the Panamera with exclusive technologies such as driver assistant to help the driver to have a safe ride, it calls InnoDrive. An exclusively new and advanced multimedia system and a three-chamber air suspension system for comfort. The Panamera has been built with a rear wheel steering system for enhanced stability and agility on the road.
The 4D chassis control system links all the functions of Panamera technologies to the engine and central console system. It is not just a long car but a driver's car.