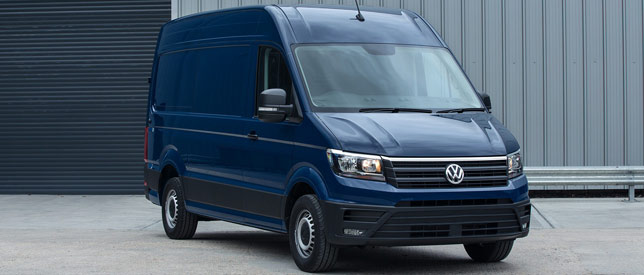 7

Oct

17
High-quality cabin and powerful engines line-up makes VW Crafter a superb van
Introduction:
There is no denying the fact that Crafter is the largest and most efficient van of Volkswagen. It includes effortlessly smooth and light steering which helps in navigating narrow streets or bulky traffic. This vehicle comes in various body styles involving panel van, tipper and dropsied.
In order to reduce the stress of inner-city driving, it holds automatic parking system. In Volkswagen Crafter, you can also get benefit from handy cross traffic system which will warn you of approaching vehicles. Contrary to its predecessor, the Crafter is no longer built under the tag of Mercedes Benz. Rather, for the very first time in 20 years, the Crafter is manufactured by Volkswagen which is simply amazing.
Engine:
Our tests have only included the front-wheel-drive versions of the efficient Crafter, which is powered by a muscular 2.0-Litre TDI with 102PS, 122PS, 140PS or 177PS, but all pull sturdily through the gears, along with a respective 300Nm, 340Nm and 410Nm flowing smoothly from 1400rpm. Our selection from the bunch is the 140PS unit, however, as it seems less strained when carrying a bursting load and like all of the other engines as a 2.5-Litre diesel engine, it will tow about 3.5 tones when hooked up to a braked trailer.
Claimed economy, particularly for front-wheel-drive versions, is 38mpg, which is some way behind the top large vans that exceed 40mpg. However, while it might not be as competent as its opponents, the Crafter is surely better to drive, along with expected handling and plenty of front-end grip. The noise of engine and roar of the road is also very well suppressed, which makes the Volkswagen an enjoyable place to away the motorway miles.
Gearbox:
A six-speed manual gearbox is fixed as standard and, though notch, grants a respectable outlet for the four-cylinder engine's power. A proficient eight-speed torque converter automatic is accessible as an option and it works tremendously well along with quick up and downshifts. That said, the automatic is restricted to front-wheel drive and four-wheel drive versions only, which clearly means rear-wheel drive vans are bound to possess manual 'boxes.
Interior:
The interior of the Crafter is hard and rough and therefore; not as exclusive as that of Mercedes-Benz Sprinter. However, the cabin is easy to clean and with no storage issue. The doors hold deep spacious pockets for some medium sized bags or even laptop cases.
Most of the models have three seats as standard along with a bendable middle seat that doubles up to serve as a laptop table. The layout of the dashboard is identical to the Transporter along with a simple design that gives a nice feeling. Bluetooth facility is standard on all the models.
Verdict:
To conclude, it can be said that Crafter doesn't enjoy the same intensity of fame as the Ford Transit or Mercedes Benz Sprinter. But overall it is a great car to drive, comfortable and refined, efficient engine and striking collection of technology.