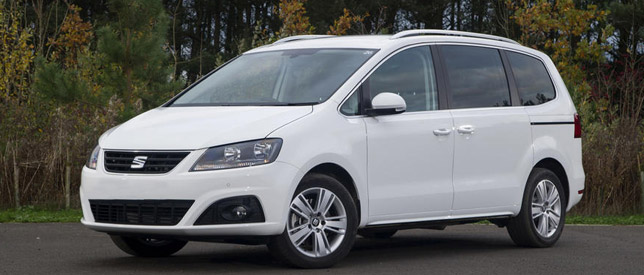 10

Jan

18
With number of positive changes new model has become lot impressive
In multipurpose van category, two major concerns need to be addressed with due diligence and they are appearance and flexibility to use. Seat Alhambra is quite modern in look and easily comes in use to carry a big family with luggage.
In fact, for these two areas, this car has scored top points. To avoid boxy look like most of the vehicles in the category it has been made taller. This seven seating capacity car can be transformed into handsome luggage carrier with five occupants in the cabin. Both rows of seats behind the driver can be folded to provide ample space for the load.
In this way, it can be used in the number of ways, unlike previous models. Another positive change you surely notice is sliding doors to make it viable for tight parking areas. In top range models, tailgate and sliding doors are controlled by just one push because of electrically managing possibility. For other models, they have been operated manually with least effort.
Seat settings for every row is interesting
Special Edition model gets Volkswagen 2.0-litre diesel engine with the capacity of 150bhp. Manual six-speed gearbox functions smoothly and you will drive it effortlessly because of adequate power to pull it even when loaded fully.
The top speed limit is 124mph and it gets to 62mph speed mark in 10.2 seconds. These figures clearly suggesting that it would not disappoint. Refinement is not ideal when speed pedal is pushed but once gets to required speed unnecessary noise would die down. Average fuel consumption is fifty miles per gallon.
The ride is quite stable due to the sporty suspension that is on the firm side. The comfortable ride is possible most of the time and stadium seating settings allow every row riders to enjoy front view conveniently.
Practical cabin and good room for riders
High roof means good headroom and easy getting in the cabin. Interior is spacious and two with floor compartments under feet of middle row passengers. More storage places can be found on the roof but you need to pay extra for this feature.
Passengers on second-row seats have the liberty to control air condition vents. They also get fold down trays to enjoy refreshment just like traveling in aircraft. Electric handbrake instead of manual one that is quite useful on hilly tracts.
Technology features are also up to date
If someone is looking for a car with seven seats and economical fuel consumption then Seat Alhambra is the right choice. All controls over dashboard are quite easy to bring in use. Both driving seat and steering are adjustable and you would definitely get an ideal position to run it and use technology features too. Smartphone connectivity is also possible in new models of the car.
Both types of the smartphone can be connected to Apple Car Play and Android Auto are present there. Large windows make visibility excellent and driving of this size of the vehicle becomes a lot easier. Automatic steering system can steer it to an empty place. So you get a lot to enjoy driving new Seat Alhambra.