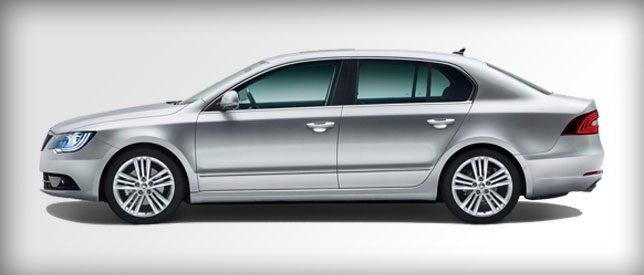 12

Dec

13
All New Skoda Superb
Skoda Superb has a huge following, but it's never been the trendiest model on the road.  This is all about to change with the arrival of all new third generation Skoda Superb in 2015 and it is pleasing to the eye. Skoda has gone for a new shape, with creases and strong lines in the bonnet as well as stronger shoulderline. It also has a wider stance. Images show that the saloon model is going to get rid of the heavy and expensive dual-opening boat. There will be an estate version too. Skoda Superb is based on the same Volkswagen's MQB platform as the new Passat, but has a longer wheelbase and more interior space.
The new Skoda Superb will not have the thirsty 3.6 litre V6 engine but it will keep the four-wheel drive for high powered four cylinder Skoda petrol and diesel engines. Skoda doesn't have any plans to offer hybrid models for now but it does plan to sell 1.5 million cars a year by 2018. Skoda has new models on the way and the first new model to be released will be Skoda Fabia, in late 2014. The new Skoda Fabia will be the most unique and modern Skoda yet, with angular headlights, a wide front grille and LED tail-lamps. However, sadly there will be no sporty vRS version.
The new Skoda Octavia is sleek and is due in early 2015. Octavia is famous for its conservative styling but for the new model it will be restyled with sharper styling. In mid-2015 all new Skoda Superb will be released, followed by a new city car/SUV. A new and larger SUV called the Snowman will be revealed by early 2016. In late 2016 we can also expect to see the all-new Skoda Yeti.