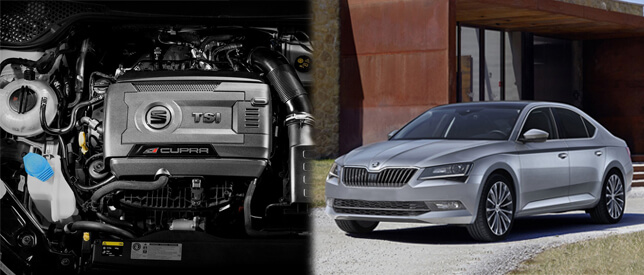 16

Feb

16
Skoda Superb heats up with the new engines from SEAT Leon Cupra hatchback and excels as quieter and smoother estate
The Superb excels at being a smoother, quieter and comfortable family car with exclusively refined Skoda Superb engines.
The 276bhp engine is a fun to drive and an absurdly fast which is according to couple of engine experts is an unnecessary in this kind of car.
Skoda Superb engines
Skoda Superb 2.0-litre diesel engine comes with 148bhp and offers all the performance that a driver requires. It is cheaper, faster and muscular at the same time.
The range topping 2.0 litre Skoda Superb is a replacement engine for 3.6-litre V6 that was capable of delivering 256bhp. It was offered in the old Superb models which were the fastest road going Skodas of that time.
Skoda transmission system
Skoda ensures that every bit of power is efficiently transferring over the wheels and for that Skoda is using the all-wheel driving system and a slick-shifting, six speed DSG gearbox.
This combination guarantees a drama-free gateways. When Skoda comes to tarmac surfaces and you push your foot on the accelerator, it latterly pushes you into the seats.
The running costs of the Superb
The all new Skoda Superb is a great fun to drive and it gives many of the cars a tough workout, however, the fuel economy is claimed at around 40 miles per gallon. The carbon emissions are rated at 164g/km. this all new Skoda Superb is a real fun to drive and it certainly is a capable of handling the power coming from the range of engines.
It is very smooth on transferring the power from rear to the front axles with Skoda's advanced all-wheel drive system and it transfers every bit of 276bhp to the wheels and make the Superb really Superb on the go.