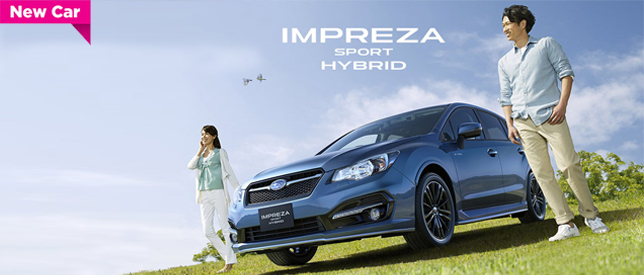 6

Jul

15
For the Japanese car market only, Subaru is about to add the all new Impreza Sport Hybrid to its line-up
On the Japanese testing cycle, the all new Subaru Impreza is rated at 48 mpg and it is about to join the XV Crosstrek, both of them are the only hybrids in Subaru's complete line-up. Overall horsepower or torque specification of this vehicle has not been made public by the company. But what normally they share is the 2.0-litre four-cylinder boxer engine, continuously variable transmission (CVT), and all-wheel drive.
Power Unit and Hybrid System
Low fuel consumption and smooth acceleration are facilitated through the motor assist function and thanks to Subaru's symmetrical AWD layout, superb driveability is achieved.
Re-engineered energy management controls are used to utilise regenerated energy at high speeds. And to enhance the fuel economy, the controls to boost regeneration frequency have been altered to actively use the battery power.
Hybrid drive motor has been incorporated with specially designed linear Tronic CVT (continuously variable transmission), which has reduced the friction and modified the torque converter.
What is hybrid spec EyeSight?
On all grade, Subaru has included EyeSight*2 as standard. Hybrid system and EyeSight, with coordinated control, gives Eco-Cruise Control function the capability of maximising the use of electric vehicle driving and – when Adaptive Cruise Control is operating – regenerative braking. This is what – under everyday conditions – improves the fuel consumption.
How's Comfort level, Looks and Driveability
The customised suspension settings for the Impreza Sport Hybrid enables the driver to achieve superb ride comfort and agile sportiness in a perfectly balanced state. The hybrid grade styling make Impreza one of the most beautiful cars so far. The exclusive hybrid grade wide and low look has been emphasised by the strongly contoured front end. With newly designed special side sill spoilers and large-diameter tyres, side view has become accented and more dynamic.
The hybrid model exclusively feature blue accents, metallic trim and piano black panels, combined in such a way that evokes the feel of quality. The top-grade model offers even high quality and refinement, thanks to the blue stitched silver Ultrasuede*3 seats.
What colours will Impreza be available in?
The all-new Impreza Sport Hybrid will be available in a variety of colours like crystal white pearl, quartz blue pearl, ice silver metallic, deep sea blue pearl, Venetian red pearl and crystal black silica.