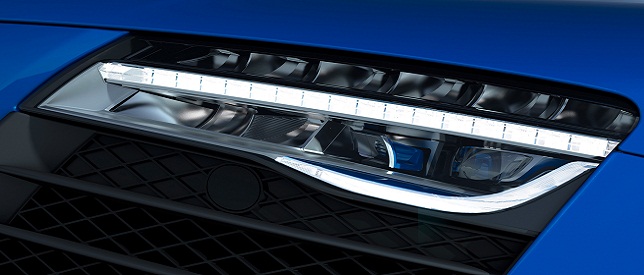 14

May

14
Audi beats BMW with first laser lights in production car
Special Edition named as R8 LMX
Upgraded V10 Engine churns out 562bhp
The R8 first supercar to have laser based headlights
Audi will show the world its laser-light technology during June 14-15's Le Mans 24 Hour race

Audi has once again beaten its arch rival BMW in the new car technology wrestle as it confirmed the new R8 supercar will be the first production model to bring laser-powered headlights into production. Audi has beaten the BMW to the punch by launching a special R8 supercar, named the R8 LMX. This is the most powerful R8 yet, surpassing the 542bhp R8 V10 Plus.
The R8 LMX's new V10 engine delivers a colossal 562bhp and can sprint the R8 from 0-62mph in just 3.4 seconds. The goodies package also include standard-fit carbon ceramic brakes, an Audi's seven speed  'S-tronic' dual clutch gearbox and a fixed rear spoiler and aerodynamic front winglets. Only 99 units of R8 LMX will be built and will approximately cost £172,000 per unit.
It's worth mentioning that BMW's laser-light equipped i8 hybrid supercar, will be available from August 2014 whereas Audi R8 LMX will go on sale in 'early summer'. Audi R8 has a history of introducing new technology as it was the first car to introduce full LED headlights in 2008. In 2013 the Audi R8 was the first car to be equipped with Matrix LED system. The range of these lights is twice that of a full LED headlight at high beam.
Audi will reveal the world its laser-light technology during June 14-15's Le Mans 24 Hour race, where its R18 e-tron quattro will use similar laser-powered headlights to beat the blistering full LED systems it has used in the recent past.