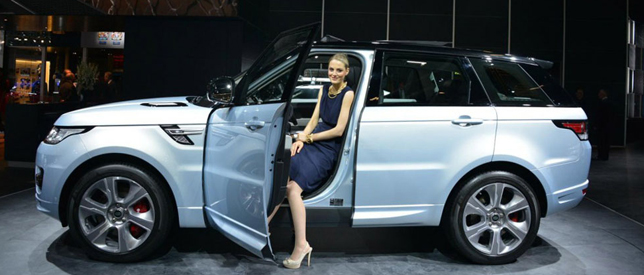 16

Jun

15
Take it on or off the road, the 2016 Range Rover Sport SVR is the best British-built vehicle you'll ever find
Special Vehicle Operations (SVO) division of Jaguar Land Rover operates more like a covert organisation working on some kind of secret engineering project which will change the face of the earth. They are working on SR71 Blackbird, a vehicle having charming looks but stealth qualities, and a very powerful Land Rover Range Rover engine, producing lots of horsepower under the guise of luxury SUV.
Is the engine that powerful?
Yes! This supercharged 5.0-litre V8 Range Rover engine produces mighty 550 bhp and with all this roaring power under the hood, its comfort and sophistication are still uncompromising. Range Rover is highly capable of providing extreme driving experience in on-road and off-road situations with utmost comfort and drive control.
Has the appearance changed?
Yes the appearance has changed, now it features blacked-out grille, large trapezoidal intakes, and to reduce front-end lift at high speeds, a specially designed bumper. The wider air apertures are designed in such a way to serve both purposes, cool of the brakes and send air to the engine's supercharger. These changes are to the front, what we have at the back is brilliant too. The darker motif with a black air diffuser and a quad exhaust system is absolutely dazzling.
The cabin of Range Rover features 62.2 cubic feet of load space, aluminium trim details and soft Oxford leathers but what really makes SVR different is its sports seats. These seats are specially designed to offer support when driving off-road and comfort when cruising. Furthermore, optional carbon fibre inserts offer a blend of modern looks and unique style.
What's the deal then?
It looks like the mission Range Rover is to bring the civility to the wild, but at the same time, they won't sacrifice all its abilities as a street performer or a luxury vehicle. In the case of SVR, they surely have raised the bar which already has been set by Range Rover Sport.