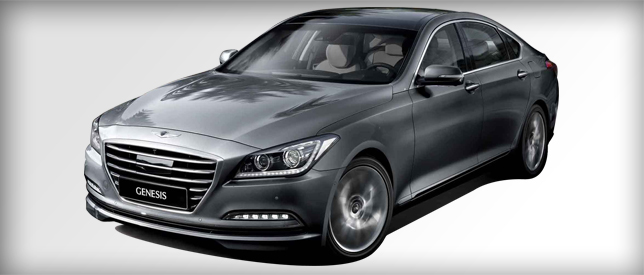 28

Jan

14
V8 Engines in 2015 Hyundai Genesis
2015 Hyundai Genesis Revealed
New V8 Engines
Luxurious Interior
Hyundai has unveiled the brand new 2015 Genesis at the Detroit Motor Show. The first model was launched in 2009, didn't make it to UK shores, but this second generation version will be offered in right hand drive and officially imported by UK Hyundai dealers. This means it will be offered with a full five-year warranty, just like Hyundai's other cars. However, Hyundai will only be bringing few cars to the UK. Hyundai is trying to up its image hence only few are on offer in UK.
The 2015 Hyundai Genesis is not available with a diesel engine as the basic level engine is a 3.8 litre V6 petrol offering 311bhp, and is offered with either rear wheel drive or Hyundai's new HTRAC four-wheel drive. The Genesis is also offered as a 5.0 litre V8 churning out 420bhp with rear wheel drive. All these engines are mated to an eight-speed automatic gearbox. The V8 Genesis also has adaptive dampers. The Genesis is of the same size as the Audi A8 and new Mercedes S-Class. It has large HiD headlights that look like the ones in BMW 7 Series. The interior is dominated by a large HD touchscreen mounted above the centre console.
Hyundai has also shown how the Genesis is compatible with Google. Some exciting new tech includes a carbon dioxide sensor in the cabin, which senses when CO2 levels reach more than 2,000 parts per million which is the figure above which the driver can begin to feel drowsy. It then adjusts the climate control to ventilate the cabin. The new Genesis is Hyundai's answer to Mercedes and BMW luxurious saloons.