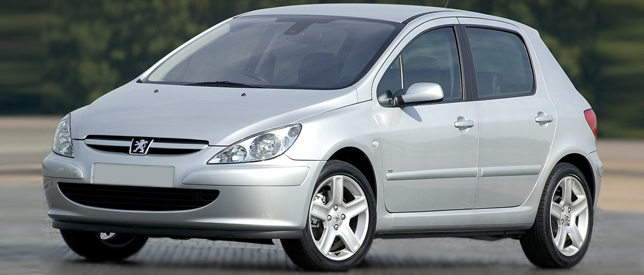 3

Feb

17
Engine Lineup is Efficient in Performance
The expensive Peugeot 307 performs well, but its rivals are cheaper and better
With its larger, taller and heavier look than its predecessor, the Peugeot 307 is a good combination of 306 and MPV. Peugeot has improved the quality of interior, safety measures and engines' efficiency in this model. The real hurdle, restricts the users to buy and use Peugeot 307, is that there are some more efficient and cheap cars available in the class such as Volkswagen Golf.
Though it was awarded the European Car of the year title for 2002 and got four star score in 2001 Euro NCAP crash test, but many countries ceased its manufacturing and the Peugeot itself replaced it with its successor 308 in 2007.
Petrol engines for Peugeot 307
The 1.4-litre four-cylinder petrol engine is available in two different outputs of 90bhp and 100lb/ft torque and 75bhp and 90lb/ft torque. With good fuel average of 43m/g both versions are reliable in performance. The top speed of 90bhp version is 107m/h with 12.4seconds to get 0-62m/h. It emits 155g/km of CO2 and 75bhp takes 14.1 seconds to get 0-62m/h with maximum speed of 104m/h.
The 1.6-litre four-cylinder petrol unit is of 110bhp and 110lb/ft torque. It is powerful version and takes only 10.7 seconds to get from 0-62m/h with top speed of 118m/h. Fuel average is not as good as its predecessor, it gives 39m/g of fuel average with 169g/km of CO2 emissions.
At the top in petrol engine range there is a 2.0-litre four-cylinder petrol engine which is capable to produce 140bhp and 150lb/ft torque. It gets from 0-62m/h in 8.5 seconds with top speed of 127 m/h. It gives 36m/g with 184g/km of CO2 emissions.
Diesel engines lineup
Diesel engine range starts with 1.4-litre HDi four-cylinder eight-valve version which is capable to produce 70bhp and 120lb/ft torque and maintain good fuel average of 63m/g with 120g/km of emissions. It is little bit slow in sprint and takes 16.0 seconds to reach 0-62m/h with a top speed of 102m/h.
The 1.6-litre HDi with 110bhp and 180lb/ft torque is impressive in performance and gets 0-62fm/h in 11.0 seconds with a top speed of 117m/h. Its fuel average is 57m/g with 129g/km of emissions.
The 2.0-litre HDi diesel unit has two versions 110bhp and 90bhp. The 110bhp version is powerful engine in diesel lineup with 188lb/ft torque and top speed of 120 m/h. It takes 10.4 seconds to get from 0-62m/h. It gives 54m/g of fuel average with 138g/km of emissions.
Expensive tech makes it out of range
The Peugeot 307 is well equipped with expensive options. There are five basic specification levels: Style, Rapier, LX, GLX and XSI with choice of 79 different combinations of interior finish.  Its interior is not as luxurious as VW Golf or other rivals but good enough of its class.
Its E model is fitted with a CD player and electric mirrors. From wheels to air conditioning unit, from a six-speaker stereo to heat reflecting screen, from sports detailing to cruise control unit and from leather covered interior to dashing paint, all equipment's are considerably expensive.
 Some negative aspects pull Peugeot 307 back
The Peugeot 307 faces lot of problems including power failures, dampness and moisture in fuse box, trip computer failures, key recall problems, brake pedals falling down, screen leakages and poor starting. It doesn't feel as soft and light as the Peugeot 306 due to its heaviness. Suspensions perform well but don't roll too much around corners.
Good engines range compensates all
There is a good engine range for Peugeot 307. There are plenty of options in petrol and diesel engine lineup as well as a hybrid version.