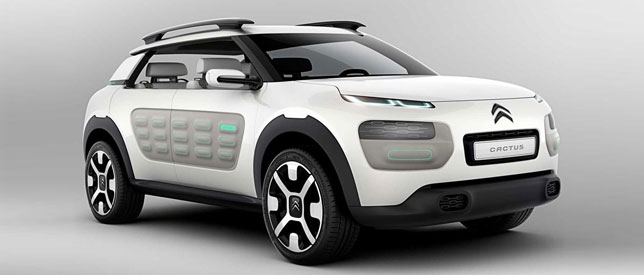 27

Dec

13
Citroen C4 Cactus Reviewed
The new C4 Cactus is due to be launched earlier next year, and will stay in tune with the initial Cactus concept revealed at the Frankfurt motor show earlier this year. Citroen plans to showcase the Cactus on February 5, five years since the brand launched its DS line. The new C4 received positive reviews when it was launched and it has been spotted testing before its full launch next year. If Citroen receives good sales figures after its launch, this could mean more Cactus-badged cars.
Some things will change from the concept car such as adding side windows. The production ready car will have a new feature called 'Air Bump', which protects door panels in car parks and tight spaces. Its interior is also sofa-styled, which is a new innovation too. There is no news on any engine specification but expect low powered engines and simple transmissions. Citroen have also confirmed it will not be fitting it with 1.6 litre turbocharged engine.
This new Cactus C4 comes after the news of expanding Citroen DS premium brand in China, which will see launch of three new models over the next 12 months. The head of product planning, Thomas d'Haussy, said "The cost of importing cars from China is not as big as you might expect, the import duties are high but the cost of labour is so much lower that the gap is small." which proves that Citroen are certainly considering building global models from their new Chinese base. The final piece of the DS puzzle in China will be a large executive saloon due to be launched in 2015, and it will be inspired by the striking Numero 9 concept.