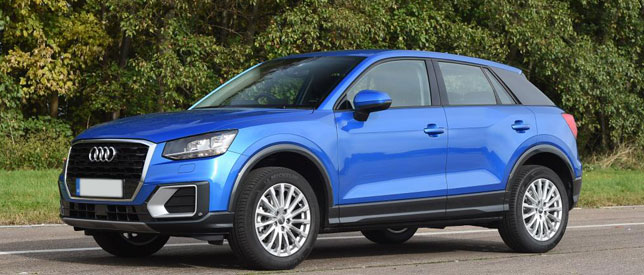 10

Feb

17
Audi Q2 Review
The Revolutionized Audi Q2 is here – book yours today!
The Geneva Motor Show this year showcased the display of Audi's new edition to Q line up. The manufacturer is back with the latest SUV looks, elegant outer cuts and inner luxury. The car was unveiled at the show earlier this year and now is ready for sale and deliveries.
Brand new Q2 is the smartest and relatively cheaper SUV in the Audi family. It is also said to be smarter than many other cars in the same line up including Q3, Q5 and Q7. Let's get to know the car a bit. The car is open for bookings and customers will get their hands on with the first delivery which is to be made in November this year.
Variants in diesel and petrol Engines
There is a wide range of options befitting every taste in the engine capacity are introduced. New Q2 offers petrol as well as diesel in its initial launch. The manufacturer has also promised more versatile versions including S and RS versions later this year.
The options available right now are a 1.6-liter TDI with a power of 114bhp and a manual gearbox in its diesel range. However, a 2.0-liter diesel with 148bhp and fully automatic gearbox will shortly be available in market.
A 1.4-litre with 148bhp is available as the initial and only option for petrol engine for now. By the end of this year, a 1.0-litre three-cylinder turbo with 114bhp will also be released.
Interior and Exterior Design
Q2 is designed with aquiline features which have impressed everyone equally. Its bold and sharp trims are unique in comparison to other Audi SUVs and its adversaries. The car is 59.4 inches (1.5m) tall and 70.5 inches (1.8m) wide, with a length of 165 inches (4.2m). On the inner side, comfy leather seats with a wide cabin space and beautiful everything awaits you.
The dashboard is quite appealing with a large 7-inch infotainment touch-screen display which can be easily operated with rotary dials and buttons. The buttons are placed at gear level for easy access while driving. The system is highly equipped to meet all the latest needs.
It has a built-in Apple car play and Auto Android support, Bluetooth, USB ports and satellite navigation system. There are tons of options for customization including 12 exterior colors, option for alloy wheels, two toned contrasting roof and interior colors.
Ample Cabin Space
New Audi Q2 has a quite comfortable seating and wide space for passengers. The drive seat comes with an ease of adjustability to match the driver's height and leg room. In the rear of the car there is enough head and leg room.
Long journeys don't feel tiring at all because the seats are huge and you can easily shift positions. There is also plenty of storage bins throughout the cabin. The door bins are also big to serve multiple purposes. A reasonably sized glovebox is present along with a small slot for keeping keys in the dashboard.