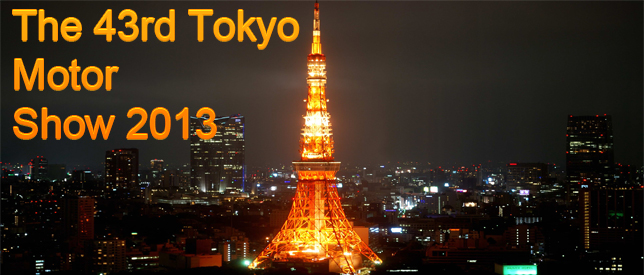 29

Nov

13
 A Review of Tokyo Motor Show 2013
The creativity, quality and vibrant thoughts of Japanese auto engineers were clearly noticeable at the 43rd Tokyo Motor Show, which is the 5th biggest in the world, currently in progress from November 22nd to December 1st at Tokyo Big Sight (TBS). Auto makers from around the world existing extremely charismatic, exclusive reveals of the most modern models about to be launched, all the way through to the hottest concept vehicles that expose an obvious vision for automobiles of the near future and the passenger cars from almost all automakers around the world. Let's have a look on several newly unveiled models at Tokyo Motor Show last week.
1- MINI Cooper 2014
There are two Motor Shows in progress at the same time, one is Los Angeles Auto Show in USA and the other is Tokyo Motor Show in Japan and BMW has introduced its all new MINI 2014 at both events to make a global debut of MINI 2014. MINI 2014 is subjected to large scale modifications from headlights to engine and from body to bumpers. The major changes are concealed under the fresh body. It is powered by two new engines, a 1.5-litre three-cylinder turbo engine and a similar one with different power output. These engines will be offered for the first time, with 134bhp in the Cooper and 114bhp in the Cooper D. An all new 2.0-litre engine which can generate189bhp will power the Cooper S and a modified edition of the same 2.0 litre engine will be used in the MINI John Cooper Works but with a power punch of 220bhp.  MINI will also be strengthened by BMW's new trivial UKL1 drive platform for the front wheels.  The Cooper and Cooper D use 1.5-litre engine with three-cylinders, power is up from 122bhp to 134bhp, which slices the 0-62mph time to 7.9 seconds (previously it was 9.0 seconds). In the Cooper D, power is up by 2bhp and it trimmed the sprint time by half a second. All MINI models will be available for sale in 2015.
2- Mitsubishi GC-PHEV, Mitsubishi XR-PHEV and Mitsubishi AR concepts
Mitsubishi has introduced three concepts at Tokyo Motor Show 2013 with all new ideas and innovative designs. Mitsubishi fleet of concepts consists of GC-PHEV a sports utility vehicle, XR-PHEV a compact sports utility vehicle and an AR concept which is a compact MPV. The PHEV concepts are equipped with Mitsubishi's plug in hybrid system. On the other hand, the AR Concept is powered by a downsized turbocharged engine. it has an elegant and purposeful interior to facilitate seven people on board.
3- Porsche Macan and Panamera Turbo S
The Porsche Macan could possibly be one of the most attractive cars for average buyers in the years to come, and it is debuting at the Tokyo and LA Motor Shows at same time. Porsche has also introduced the most commanding and powerful version of the Panamera, the Turbo S. This model is powered by a 4.8-litre V8 engine which is capable of producing 562 bhp, the Turbo S has 49bhp extra than the standard Turbo model, it is an attempt to rival Audi RS7 and Mercedes CLS AMG and costs a massive £131,049 that's approximately £50,000 extra than its major rivals, the Audi RS7 and Mercedes CLS AMG.
4- Subaru Levorg concept and Subaru Sport Cross Design Concept
The all new Subaru Sport Cross Design Concept has been introduced at the Tokyo Motor Show 2013, together with the Subaru Levorg invention car while the Viziv plug-in hybrid concept car is also on display. Subaru Sports Cross concept is primarily a BRZ Coupe built-in with slightly elevated suspension and a shooting brake at the rear end, to make the differentiating process very good, the BRZ is inspired from its sister car, the Toyota GT-86. It's clear and obvious after talking to its spokesman at Subaru Desk that something like this wouldn't be immediate and easy to create. It could be just an insertion of anticipation and pleasure that Subaru needs.
Subaru Levorg is a new invention from Subaru which will be in production very soon, ready to be launched in Japan in spring 2014 and there is no possible chance of arrival in the UK. The car characters a high waistline with stylish wheel arches, which will give the rider a sports car feel.  An all new 1.6-litre turbo boxer engine will be used to power the vehicle, as well as a 2.0-litre will also be available for the new Levorg.
5- Suzuki Crosshiker, Suzuki X-LANDER and Suzuki Hustler
Suzuki is introducing three concept cars at the show. The concepts line up starts from a Crosshiker which has the attributes of a compact crossover and size of a normal city car.  It is equipped with a jacked up suspension system.
The X-Lander is a hybrid 4×4 vehicle but likely to stay behind as a concept. Suzuki Hustler coupe is possibly a challenge to a new generation of minicars. It has loads of unique styling attributes, with a pitched roofline and boxy posture plus a comfy and spacious interior but it's not intended for production yet.
6- Daihatsu Copen
Daihatsu is displaying its two versions of Daihatsu Copen Concept at Tokyo Motor Show, one is a conventional roadster and second one is an SUV inspired edition symbolised by its rocky body shell. These models are powered by 660cc three cylinder engines and their size is as 145mm shorter than the Volkswagen Up! Due to the bad sales in the European markets, Daihatsu was kicked out from Europe but they are hoping that their Copen concept of the roadster will draw some interest in the brand once again in the global markets.
7- Jaguar F-Type Coupe
Jaguar has introduced its F-Type Coupe at the LA Auto Show and Tokyo Motor Show at the same time, the car manufacturer is also launching an all new 542bhp flagship Jaguar R very soon. The F-Type Coupe will be available to buy in upcoming spring, prices are announced from £51,235, which is approximately £7,000 less than the soft-top and little bit more than the Porsche Cayman S. If you want to get your hands on the Jaguar F-Type R and you'll have to pay £85,000.
8- Honda S660, Honda small SUV and Honda NSX Concept
Honda has its four vehicles on show at Tokyo Motor Show 2013, with a Honda S660 Concept, Honda small SUV and NSX Concept. It's powered by a 660cc three cylinder engine mated to automatic transmission and paddle shifters are mounted with the steering wheel to facilitate easy gear changes. It looks like an attempt to rival Nissan Juke. After a long wait, Honda NSX is again displayed at Tokyo Motor Show, a plug in version of Honda Accord is also on display and it has claimed 138 mpg but sadly it's unlikely to be launched in UK.
9- Lexus RC Coupe and Lexus LF-NX
Lexus is participating with its two cars Lexus RC Coupe and the LF-NX. The foremost desirability can be seen in the all new RC Coupe at the Lexus stand at Tokyo Motor Show 2013. It's the Japanese auto maker's endeavour at its competitor, a 4-Series BMW and A5 from Audi and its design takes idea and inspiration from the LF-CC concept. It's a very belligerent and aggressive look, with the brand name taking over the wide spindle grille at the front end. It's a totally altered and modified designing trend that should appeal to buyers.
A V8 engine with 450bhp version is expected to go on sale in the UK. The Lexus LF-NX was initially exposed at the Frankfurt Motor Show in September and is also on exhibit at Tokyo Motor Show 2013. It still has an unchanged rounded and sharp exterior but a new 2.0-litre turbocharged engine is now hiding under the bonnet, which will lead the Lexus into the series of Toyota and Lexus models in the future.
10- Nissan GT-R Nismo, Blade Glider and IDx
A long  speculation on the internet for months about the Nissan's NISMO edition of GT-R is ended now because the original vehicle is introduced at Tokyo Motor Show 2013. Nissan has not finished yet, they have introduced new electric sportscar BladeGlider along with NISMO GT-R which is an inspiration from the DeltaWing Le Mans racer, the Japanese auto maker has confirmed that the car will be in production very soon.
The Nissan IDx concept has also been introduced at the Tokyo Motor Show 2013. It's a retro coupe.