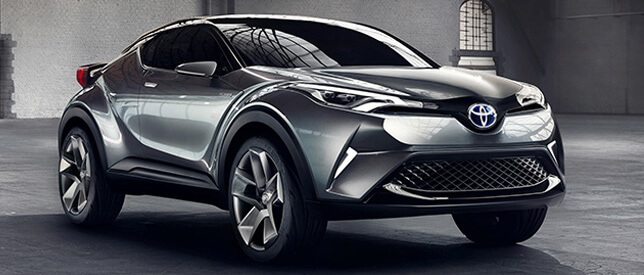 24

Feb

16
Toyota C-HR hybrid crossover revealed on the way to Geneva Motor Show
The all new Toyota C-HR crossover will be introduced at the Geneva Motor Show and you will see it for the first time in next couple of year, not exactly mentioned by the Japanese automaker.
Toyota has shown a vague picture of the concept but it is expected that the production model will be similar to model shown at the Frankfurt motor show last year.
What Toyota said?
The CEO of Toyota Europe Johan van Zyl confirms that the production ready model will look alike to the teaser image they are going to show at the motor show.A less developed C-HR concept was shown at the shows in the past. However, Toyota claims that thy will open it for sale soon after its introduction at the motor show.
Rivals of the C-HR
New C-HR will rival Nissan Juke as it has again been added in the model line-up of Toyota with the more coupe-like styling and design. It will be a styling led crossover and will be introduced as the five-door version rather than a three-door version.The all new Toyota C-HR will be based on the TNGA platform architecture to well describe the integrated development program for vehicle platforms and powertrains.
Powertrains
It fortifies the new Prius and will likely to use the same powertrain and hybrid drivetrains to make it a successful vehicle on the market.
Technical data has not been released yet but the Japanese automaker claims that a Toyota petrol engine with thermal efficiency of more than 40 percent will likely be used.