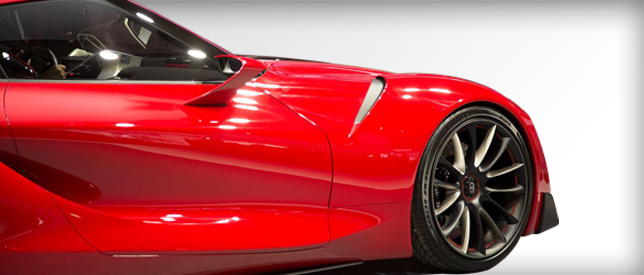 21

Jan

14
Toyota FT-1 was designed at Toyota's Calty design research centre in California
Toyota has unveiled the FT-1, a car described by its maker "a true enthusiast's track car in the lineage of the 2000GT and Supra". The name FT-1 is the abbreviation for 'Future Toyota', where the number one represents "the ultimate world-class sports car with the ultimate performance envelope". Toyota hasn't revealed any details on its technical specifications for the FT-1 but our sources confirmed that it has a combustion engine only, with no hybrid system. It will definitely have a "high output".
Toyota FT-1 rear-wheel/front engine drive setting allows the cockpit to sit further towards the rear of the car. Its wraparound windscreen and side glass arrangement are taken from the original design of the 2000GT. Toyota describes the cockpit as a "delta-shaped display zone. This helps to make the driver feel at the heart of the action, fully connected to the car". Toyota FT-1 also features a Formula 1 stimulated steering wheel and a colour head-up display.
Calty president Kevin Hunter said "Not long ago [Toyota boss] Akio Toyoda challenged his designers to create cars that sparked people's emotions," he said. "Cars that make them say, 'I want this, I have to have this'.
"For many years Toyota has approached product development relying on a strong influence from the market through consumer studies and a degree of internal consensus. The goal was to produce a vehicle that was liked by everyone. As a result, we took less risk and tried not to stray too far from designs that had been a success".
"Now Toyota's design efforts are less reliant on consensus. We have empowered our designers and engineers to make a creative and passionate vision of future mobility. The goal is simple yet profound: develop future generations of products that connect on an emotional level. As a result of this new global commitment, we expect to develop the most capable, exciting generation of vehicles the company has ever produced."