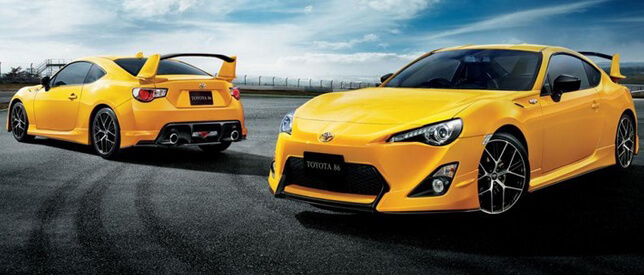 11

Apr

16
At New York Motor Show, Toyota breaks the covers of its legendary GT 86 sports car
Toyota has refreshed its GT 86 sports car and in the refined model automaker has added extra style and suspension gadgets but the Toyota engine will be the same with entire powertrain remained unchanged.
The all new refined and refreshed Toyota GT 86 has been revealed at the New York Motor Show and will go on sale by the end of this year.
What new model looks like?
The new model gets several exterior changes along with interior refresh to help the looks even more luxurious yet sporty. It has revised fog-light housing and LED lights with new alloy-wheels and definitely a sportier design. Apart from these changes, there are not any other exterior changes but a very diminutive facelift.
Let's dive into the luxurious cabin of the GT 86. On the entry, luxurious alcantara leather upholstery will welcome you aboard. There are new door and instrument panels with cloth seats and all updating with contrasting silver stitching as well. a new steering wheel design features audio controls and an 86 logo.
Under the Skin changes
There are several changes made under the skin and the suspension has massive refinements with few tweaks to help improve the agility of the car.
Toyota 86 engines
The all new Toyota GT 86 comes with a petrol engine of 2.0-litre of displacement and a rear-wheel drive layout to make it a true drifter. But there are no words from Toyota on the Facelifted GT 86 that will it have any power boost over the previously produced 197bhp figure.
There are rumours floating in the market about Toyota's announcement on the GT 86 CS-Cup, a strong competition is expected but the car has been designed to compete on the Nurburgring in Germany that means there is no worries about the competition.