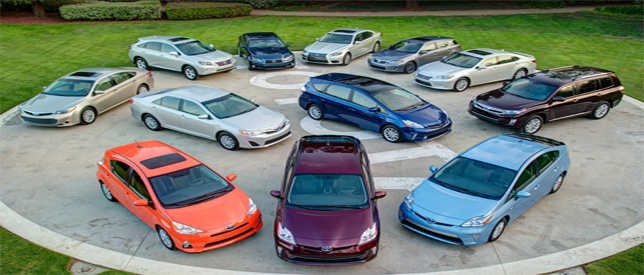 27

Jan

14
Toyota is well known for its Prius, but that car's legacy is now so well-established it is often overlooked by green car "awarders"
Toyota sells more than 6 million Hybrid vehicles worldwide and this has saved an amazing amount of petrol. As of now, Toyota sells about 1 million hybrid vehicles every nine months and by the end of 2013 this sales figure surpassed 6 million cars which make Toyota the market leader in the green car sector. No other car maker comes close to this figure and the impact its green cars have on the environment.
Currently, Toyota sells two fully electric vehicles, one plug-in hybrid, and 24 hybrid models worldwide. That number will increase by about 50% over the next two years as Toyota is set to launch 15 more models. The hybrids in Toyota's lineup start with small economy cars like the Prius C and are available in almost every car and SUV category. Lexus hybrids sell particularly well and most of its models are available as hybrids and one model is exclusively a hybrid.
However, Toyota's hybrids are not just a US sensation. The 647,000 hybrids Toyota has sold in Europe is far more than all the European manufacturers combined have sold hybrids (or any green car for that matter) in the US market. Of course, Japan is truly Toyota's home market and there it dominates with 2.8 million hybrids sold.
Electric vehicles have no tailpipe emissions and for that they are duly credited with being the greenest cars available. Over the 17 model years it has produced hybrids, Toyota estimates that the hybrids it has sold has reduced the CO2 emitted by cars by about 41 million tons. It further estimates that it has saved 15 billion litres of petrol (15 million kilolitres). This is in comparison to customers having chosen other non-hybrid models of similar size.