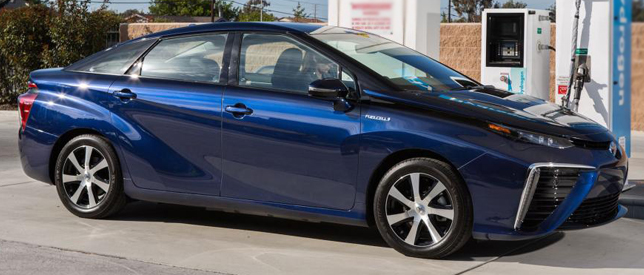 23

Jan

15
The Hydrogen car secures 1,500 orders in the first month in Japan
Toyota has announced plans to increase production of its Mirai hydrogen fuel cell car after first-month orders in Japan tripled projections. The Japanese firm is building 700 customer examples of the car this year, but plans to extend that to 2,000 cars in 2016 and 3,000 in 2017.
The Mirai, of which order books opened in Japan at the end of last year, has so far proven a better-than-expected success. Toyota's initial plan was to shift around 400 units in 2015, but in its first month nearly 1,500 orders were put down for the Hyundai ix35 Hydrogen rival in its home market.
According to Toyota, around 60% of the Mirai orders put down were from Japanese government/private fleet customers and the other 40% from private buyers. It's expected that some customers in the country will have to wait longer than first thought due to manufacturing delays, which is why production is set to be stepped up.
The Mirai will go on sale in Europe later this year, with UK deliveries expected in September. It will be one of the first private vehicles that run on pure hydrogen to make a mass market debut in the UK.  In October last year the British Government announced plans for £11 million funding into our Hydrogen fuelling infrastructure, which will hopefully coincide with the Mirai's release.