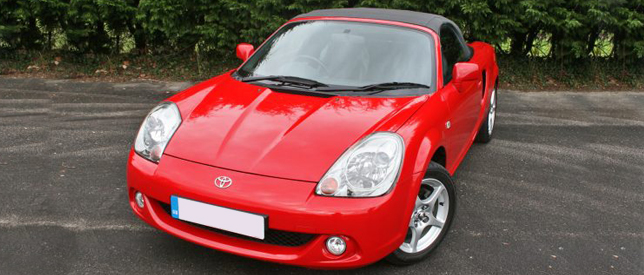 8

Feb

18
Toyota engines are not only fuel efficient but powerful too
The car was first introduced in the 1980s to compete with its striking look and exciting driving in the class of sports cars. The first generation of this car was equipped with an engine of 112 horsepower. That 1.6-litre engine managed to accelerate from zero to 60mph in little more than eight seconds.
An added supercharger introduced later to make it faster so that it reached in seven seconds to the speed mark. That also increased horsepower to 145. The next generation MR2 became curvier and appearance got more pleasant. Improved engine of the second generation produced 200hp and 200lb-foot torque.
These figures allowed it to further minimize time to 5.5 seconds and that was far quicker for a car of the affordable price range. In some markets, two-seat coup model did not prove a hot cake and abandoned after a while. But a successor that was also mid-engine rear wheel drive, later on, enjoyed short-lived success.
Second generation with some great changes
The second generation offered two trims standard and turbo. The inclusion of other changes was continuously observed throughout the lifespan. Most important of those were styling and modern safety features.
Standard trim of Toyota MR2 gave buyers the choice of manual and automatic speed transmissions but turbo trim came with four-speed manual gearbox only. For the earlier safety equipment's included driver side airbag. Optional features for both models include antilock brakes, air-conditioning, cruise control and leather seat covers.
Power windows and locks can be added to base model but standard in the turbo. After some years passenger airbag was also included to ensure safety in case of the accident.
Engine is in middle but boot place is very tight
Chassis got right kind of balance due to the placement of engine in middle. Handling remains good for the most time of driving and pushing speed pedal harder does not make any difference to that feel. It is quite simple to drive at high speed and the reasons are modifications made in suspension and wheels.
The base model engine is very efficient and you enjoy the drive but 200hp turbo motor is really quick. Refinement is a big concern and small boot space is also not good. The quickest of the engines is a definitely better option because of performance.
Facelift provides modern look to the car
A facelift to the car was given in 2002 and that was to make it modern in appearance. That proved quite successful as desired results were achieved. That also provided one more gear and buttons on steering wheel for a more focused drive.
The used cars are still available but a test drive is a must before deciding to purchase one. Among small Sports-Cars it is reckoned by its ability to accelerate in no time, lightweight body and good driving seat position.
Steering is alive so every single move is responded well and engines' agility keeps drivers engaged in the pleasure of driving. Running cost is also affordable and it is largely due to lightweight. Service periods are also well stretched and you do not need to do it after short intervals.