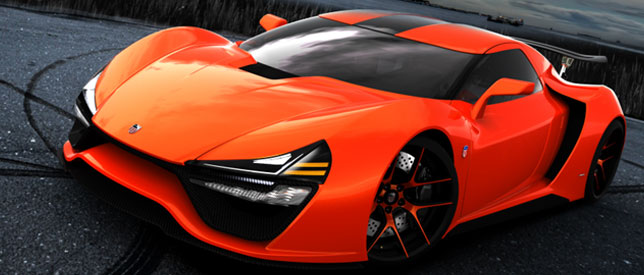 22

Oct

14
American Automaker Trion Supercars will start production of its 2,000bhp Nemesis Hyper car in January 2016
California-based company Trion Supercars will launch its Bugatti Veyron and Koenigsegg One: 1-rivalling Nemesis in January 2016. Currently under development, the Nemesis is hoping to put an end to the European dominance in hyper car market.
Trion was founded in 2012, and the Nemesis will be the company's first ever production car and will be powered by a 9.0-litre twin-turbocharged V8 engine, developing 2,000bhp. It's likely to cost about $1million (£620,000).
The power will be transmitted to the road via an eight-speed sequential gearbox, helping it to go from 0-62mph in 2.8 seconds. Trion claims it will have a top speed in excess of 270mph which is nearly the same as Koenigsegg's claimed 273mph which is ahead of the Bugatti Veyron Super Sport's official 268mph.
Nemesis will be a four wheel drive which will help such a power output. It is based on a lightweight carbon fibre monocoque featuring a pushrod-based suspension system and carbon-ceramic brakes. Aerodynamics will play a very important role in its top speed. The Nemesis will also be fitted with active aero and a 'Predator mode', which when selected by the driver, modifies interior lighting, stiffens the suspension, lowers ride height and gives a more raucous exhaust note.
Trion says that the interior will be fitted with 'cutting-edge technology' and will be handcrafted from carbon fibre in America. Images of the interior show a Mclaren-style central touchpad control screen and a minimalist layout. Trion claims the Nemesis is practical too, claiming the boot can easily accommodate golf clubs and luggage. However, as prototype models won't be built until February 2015, it's too early to back up most of these claims.
Its production will start in January 2016 and initially only 50 models will be built, depending on customer demand. If the Trion Nemesis goes into production by January 2016, then it will certainly battle Bugatti and Koenigsegg for supremacy, although we have to remind ourselves that there are only 20 more units of the Veyron to be built, with work already underway on the Bugatti Veyron successor.