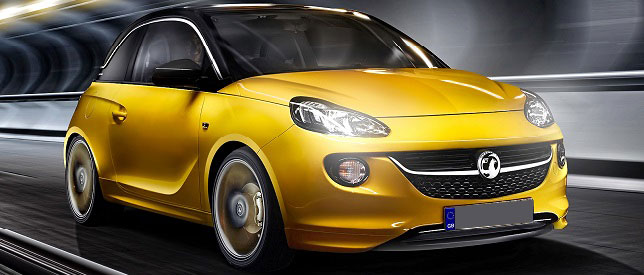 18

Sep

14
New Adam S is Vauxhall's sporty flagship model gets 148bhp engine and leaves for Paris to make its first public appearance
Vauxhall Adam S is a sporty version that is about to get even prettier, gets new turbocharged Vauxhall engine that can develop 148bhp from a 1.4 litre unit. This flagship model is making its public debut at Paris Motor Show next month.  It will be available in UK from January 2015. If you recall the Geneva Motor Show you will remember it being previewed at the show as a pre-production prototype and was entitled as Vauxhall's range topping city car. Now it is ready and definitely looks like a range topping city car.
It has refined styling and tuned up chassis, however the braking system is also pretty good with VXR braking system. Vauxhall engines are much reliable and fuel efficient because GM trying to make the brand prominent in Europe. It has a 1.4-Litre turbo engine that generates 148bhp and 162 Lb-Ft of torque. It has an increase of 49bhp in power units and 70lb-ft in torque generation when compared to the previous 1.4 Litre naturally aspirated engine. It gets the Adam S at 62mph in just 8.5 seconds from a stand still.
For a city car like Adam S, the tested top speed of 124mph is pretty impressive. But you must keep it in mind that Adam S is not a sports car so it's not about performance rather it's about efficiency, as it is entitled to be a city car. Like the Corsa models, Vauxhall has introduced best technologies and officially claimed that they have seriously attempted to boost the efficiency of the Adam S and introduced a start/stop technology. The all new Adam S offers 44.1mpg on average and a relatively high carbon emission rate that is 149g/km.
It is confirmed that the Adam S will be open for sale from January 2015 but prices are not yet been confirmed. It is assumed that Vauxhall will set the price anywhere above £15,350 of present range topping model.