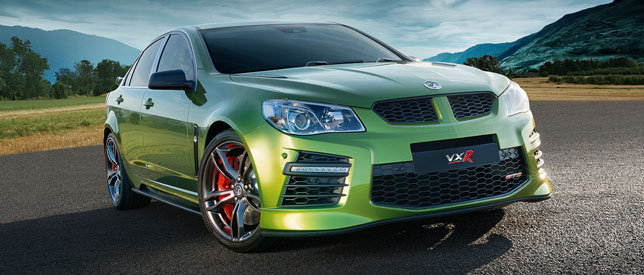 8

Mar

17
The 6.2-litre Supercharged Engine of VXR8 is the real power beast
With some extra power under its bonnet, the new Vauxhall VXR 8 is really fast
The new Vauxhall VXR 8 with dashing and appealing look is an awesome performer. The VXR 8 is now with lot of air vents and grilles along with rear aerodynamic wing to maintain good speed. Though the running cost is very high of this car, but offers a lot of fun to drive with the addition of Magnetic Ride Control (MRC). This system gives you the best handling and comfort while cruising with effortless ease.
Reliability and safety
In high performance and high speedy cars, the safety measures should be more than regular standards and the Vauxhall have kept this thing in the mind while production of the VXR8. Though we find exceptional safety standards in the Audi and BMW if we compare them with VXR 8, but Vauxhall has improved this section a lot in its latest VXR8.
The interior is comfortable enough but noise of engine can trouble you
The interior designing and style is up to the standard with good, spacious and comfortable arrangements of features and equipments. The body is well settled on the chassis and with enough strength and rigidity to control the power of its V8 engine. The noise of the engine makes trouble but its speed and quality performance compensates it well. The seats are hip hugging and hold you tight while cruising. The interior is as sporty and muscular as its exterior.
Engine Range
The 6.2-litre V8 petrol engine is a powerful beast under the bonnet of Vauxhall VXR8.  At its debut this engine was of 411 bhp but in 2009 upgraded a little bit and reached up to 425 bhp as we find in the Clubsport edition. In Vauxhall supercharged GTS model, this 6.2 litre V8 engine is capable of 576bhp.
The ClubSport edition is equipped with 424bhp and 406lb/ft torque, 6.2 litre V8 petrol engine. This engine is really fast and brisk in performance. It takes 5.0 seconds to get from 0-62m/h. The top speed of this powerful engine is 155m/h.
This is a V 8 petrol engine, very thirsty one. It gives only 20m/g of fuel average with massive 324g/km of CO2 emissions. It is fitted with six-speed automatic gear transmission and rear-wheel drive system.
The 6.2-litre Supercharged V8 with 576bhp version
The latest model of Vauxhall VXR 8 is equipped with Supercharged V8 petrol engine which is capable of 576bhp and 546lb/ft torque. With the assistance of the Supercharger the exhaustion comes out with a thunderous sound effect at 4000rpm. This powerful engine is as quick as we find in the Mercedes E63 AMG.
It takes only 4.2 seconds to get from 0-62m/h with top speed of 155m/h. the fuel consumption doesn't matter at this level of performance. It gives just 18m/g of fuel average along with 374g/km of CO2 emissions. This engine is fitted with six-speed automatic gearbox and front-wheel drive system.
Though it's built is sporty, but offers a good space
The New Vauxhall VXR8 is one of those cars that offer good boot space and storage capacity. The leg and head room at front and rear is reasonably good and practical. Good seating arrangement offers you the best driving position with firm control and grip on steering-wheel.