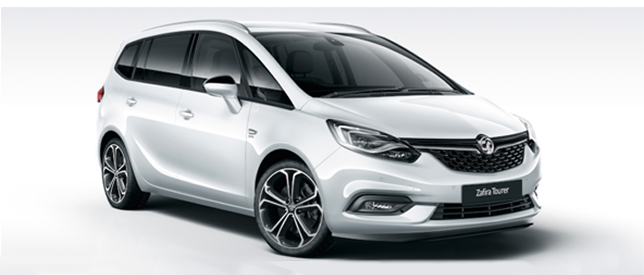 27

Jan

17
An Insight in to the Vauxhall Zafira Tourer 2016
Vauxhall launched the latest version of its Zafira Tourer seven-seat MPV in October last year. It is a roomy looking and versatile vehicle that has been designed keeping in view the comfort of people particularly in travelling long distances. There are three rows of seats offering you the luxury to fold unoccupied ones and transform the car into a spacious limo.
How well does the engine work?
There are three engines to pick from, a 140PS 1.4-litre petrol or a couple of diesel variations – a 1.6 CDTi with 134PS and the 170PS 2.0. The 1.4 petrol manages 42.2mpg, a top speed of 124mph and a sprint time of 9.9 seconds, with the 2.0-litre diesel posting 67.3mpg, 129mph and 9.1 seconds. The 1.6 CDTi which has CO2 emissions of 119g/km and a combined fuel economy figure of 62.8mpg, will be the most popular with fleets.
What's new in exterior design?
All new Vauxhall Zafira is set and ready to boom the market with some generous changes in its interior as well as exterior. In the first look the prominent facelift is what will surely catch your eyes.
It is a very obvious change. Other changes like new headlamps and chrome bar can also easily be spotted. A seven-seater spacious car has gone through a revamp making it even better than before.
How does it look on the inside?
Changes in the interior are far more practical. The first look at the dashboard will tell you that it is sleeker than the last model. The new seven-inch touchscreen is capable of moving from the top of the console to the screen lower down. The screen was previously located on top of center console. It also works via Bluetooth to deliver hands-free calls and you can access apps from your phone on the screen on the move.
Beaming With Technology
The latest system installed allows you to connect your phone on the go. Whether your phone has iOS or android platform, there is option for both users. Apple CarPlay and Android Auto provide you with this ease. The system also offers high-speed internet 4GWi-Fi connectivity in Vauxhall Zafira for up to seven mobile devices.
Vauxhall's OnStar service provides you with a number of benefits. OnStar operatives will help you in any case of emergency such as stolen car. They will not only provide with the present location of car but will also prevent from restarting it. The same service offers help if your airbags go off signifying a serious collision. Not just that, it provides you with the charm of operating some functions through a mobile app as well. How fancy is that? Company car drivers can take advantage of OnStar free of charge services for the first 12 months, which is followed by an annual subscription fee if you want to continue.
The car is easy to drive and park, thanks to the front and rear parking sensors that assist you well.