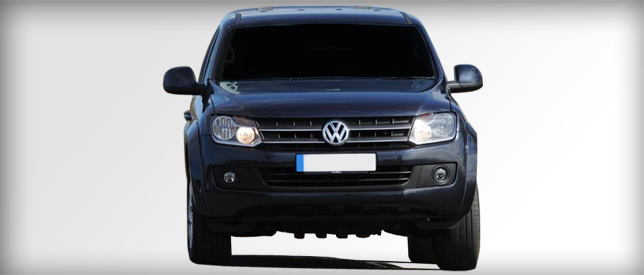 27

Dec

13
The Volkswagen Amarok is only offered as a double-cab in the UK, but that doesn't mean it's not popular. It was given the Best Pick-Up of 2013 as it mixes practicality, strong, efficient engines and quality feel. All trims are equipped with 2.0 litre diesel engine. It might not have that much luggage capacity as compared to its competitors but when it comes to power and fuel consumption it is in a league above its competitors. The Amarok can be mated to a selectable or permanent four wheel drive which means impressive off-road ability.
VW Amarok also comes equipped with BlueMotion Technology, which reduces fuel use and CO2 emissions. However, it still is one of the largest pick-ups on sale with lots of loading space and is reliable too. The interior is where the Amarok makes it case with high standards of quality. You can choose from three versions: Starline, Trendline and Highline. VW will soon be introducing a special edition of Amarok, based on the 2012 Canyon concept seen at the Geneva Motor Show. Whichever spec tickles your fancy, you are bound to get car like cab design combined with an effortless cruising ability, which means this is vehicle not just for towing luggage but it is also a family vehicle at the weekend.
VW Amarok gives you a choice of two 2.0 litre diesel engines: a 138bhp turbo and a 178bhp twin-turbo. VW claims fuel consumption of up to 36.2mpg and 35.3mpg respectively, while CO2 emissions stand at 205g/km and 211g/km. These VW Amarok diesel engines are mated to a manual transmission. There is also a 178bhp Bi-TDI is also available with an automatic transmission and has a host of features such as cruise control, low-rolling-resistance tyres and stop-start to the 178bhp Highline model, thanks to VW's BlueMotion Technology package.