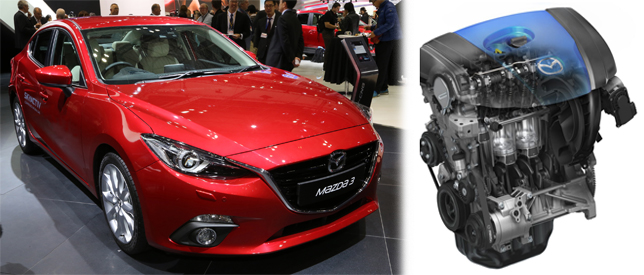 16

Nov

15
Mazda revolutionized engine efficiency with its SkyActive engine technology!
The Japanese Car manufacturer "Mazda" introduced SkyActive four cylinder engine technology when it first launched Mazda 3, back in 2012. The company is launching models with SkyActive four-cylinder engine since then.
The SkyActive system involves high compression and reduces exhaust to extract every drop of fuel to increase efficiency. The system doesn't involve complexities of hybrid system instead relies on high compression and enhance engine efficiency.
Mazda has built its Mazda 3 on the philosophy of "Jinba Ittai" that means horse and rider in perfect harmony.
 SkyActive Engine Technology
There are two different petrol engine version of the 2015 Mazda 3, both of the versions are efficient and quick with various power outputs, the 2.0-litre and 2.5-litre versions.
The Mazda 3 2.0-litre has power output of 155bhp and produce a strong torque of 203Nm whereas 2.5-litre engine has more powerful output, it has 184bhp and generates a torque of 251Nm.
It has striking driving experience because of its speed and power, but the fuel economy figure stays at 41.5mpg because of the revolutionary SkyActive engine technology.
Both of the engine versions are available with six speed manual gearbox and optional six-speed automatic transmission.
Mazda 3 provides wonderful driving experience and delivers outstanding road performance. Mazda 3 distinguishes itself from other hatchbacks because of the combination of power, speed and engine efficiency.
Combination of electronic and Tech features
Mazda built its model 3 with range of electronic and tech features on top of exclusive driving features, the latest Mazda 3 has six airbags including side-curtain bag.
The tech features include combination of cameras and radars to guide and alert drivers in dangerous situations on the motorway or busy streets, the system is known as Active Sense.
The other sophisticated features include lane-departure warning Alert, Cruise Control, blind-spot monitoring system and warning alerts system. The headlight of Mazda 3 automatically adjusts the beam of light from high to low and vice versa.
Mazda has incorporated revolutionary forward obstruction warning system in its Mazda 3, the system alerts the driver if the vehicle is moving quickly towards an obstacle. There is new Smart City Brake Support system installed in the Mazda 3 as well.