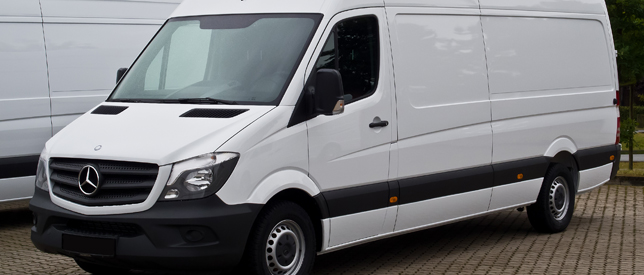 9

Nov

15
The Sprinter has powerful engine options with exclusive safety features
Mercedes-Benz introduced powerful and state of the art commercial van, "Sprinter" with strong V6 turbo diesel engine. It has enough juice to generate powerful torque in all situations. The innovative Sprinter is your business partner.
The right size and powerful engine options have made it the leading choice for people who are looking for a perfect vehicle for loading and transportation needs.
Engine Specifications
The 2015-Mercedes-Benz Sprinter has two power train options, the 2.1-litre turbo-diesel engine with 161bhp and the 3.0-litre turbo-diesel V6 engine with 188bhp. It attains the torque of 325Nm at 1400 rpm.
The 2.1-litre turbo diesel engine offers rear-wheel drive with seven-speed automatic gearbox, whereas the 3.0-litre turbo diesel engine has five-speed automatic gearbox and offers both rear and four-wheel drive. The sprinter has direct fuel-injection system.
The 0-60mph is attained in 11.2 seconds and top speed of 84mph has been noted. The Sprinter is a good choice for van lover because of its speed, engine specification and road performance.
Best Van for Motorways and off-Roads
It provides sufficient power for carrying full capacity load around the motorway and off- roads.  Mercedes' Sprinter gives good view of road compared to all other rivals because of its high seating-position.
The people who are looking to drive the van around the town or market, the automatic transmission in Sprinter can be great option for them as it leaves both hands free to control the steering-wheel.
Safety Technologies
Mercedes-Benz has built its reputation on the reliability and safety features of its car in general and the Vans in particular. Mercedes has incorporated various safety technologies in its Sprinter which includes Acceleration Skid Control (ASR) to help and assist the driver.
The other peculiar safety technologies include Brake Assist System (BAS) and ESP trailer stabilization. The lane-departure warning, collision prevention, and crosswind stabilization are additional cool features of Sprinter. All these safety technologies distinguishes Sprinter from its rivals. The prices start from £20,620 and available for sale in the UK.