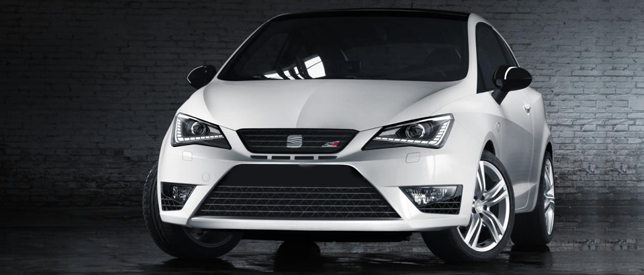 7

Dec

15
SEAT has high hopes with its hot hatch because of its all new powerful engine and manual transmission
The SEAT Ibizi Cupra is a convincing hot hatch offered by SEAT, its sharper chassis, powerful new engine and LED daytime running lights have made it the prettiest and an efficient car. On top of all that it is also fit for day to day driving.
Engine Specifications
The SEAT Ibiza Cupra 2015 will come up with 1.8-litre 4 cylinder turbo petrol engine that will deliver power output of 189bhp. It attains sprint of 0-62mph in 6.7 seconds which is quite impressive with 1.8-litre turbocharged engine.
The top speed of 146mph has been recorded, which is really cool. Isn't it? The Ibizia offers front wheel drive with the six-speed manual transmission. The fuel economy and CO2 emission figures of the Ibiza are also quite good, both the figures stay at 47.1mpg and 139 g/km respectively.
Return of Manual Transmission
SEAT has replaced its traditional seven-speed dual clutch transmission with a six-speed manual transmission because the rivals offer similar specification in their hot-hatches.
The customers enjoy smaller hot hatches now a days. However, the turbo capability of Ibiza Cupra has added extra muscle to its engine.
Price and Tech Features
The tech features have become essential for all vehicles and the Ibiza Cupra is no exception. SEAT has incorporated some standards tech features with some additional tech features. It has smartphone connectivity for both the platforms, Android Auto and Apple Car Play. The Mirrorlink is also installed in the Ibiza Cupra 2015. Apart from that it has 6.5 inch touchscreen with DAB and Bluetooth capability.
SEAT will offer its all new Ibiza Cupra 2015 at the price of £ 18,000 which is another great incentive for the buyers. Although the official figures have not confirmed this price. The final price will be revealed once it will go on sale by December 2015.