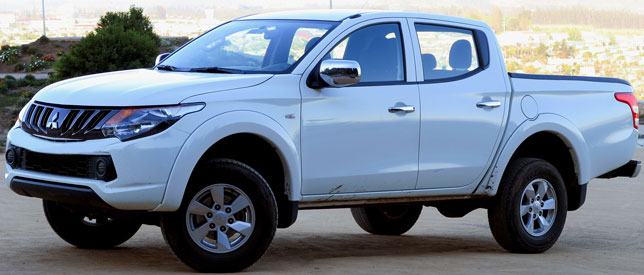 24

Dec

19
As more and more buyers of Mitsubishi in Europe belong to the United Kingdom
Adventure centric Mitsubishi L200 has come up with the new suspension to make the ride more comfortable than ever before. Mitsubishi L200 engines are always good and in the new model, you get a fantastic power machine to pull it over rough tracks efficiently.
Safety features have been made just a car like to give you a better feel for a journey of excitement. This vehicle is available in less expensive luxurious trims so you could enjoy thrilling excursions in lavish interiors.
This pick-up truck by Mitsubishi has been in markets since the 1970s and ever since gaining in popularity. The sixth edition of the vehicle is probably the most successful of all the editions so far.
As more and more buyers of Mitsubishi in Europe belong to the United Kingdom so the company needs to be more concerned about the feedback from them. With such a response the company will surely be able to consolidate and further increase its position in Britain.
While making it stylish basic body and load area
In fact, the sixth edition model is handsome in appearance so it appeals more to UK buyers. This new model has improved in every single area so you will find it a better vehicle than its predecessor. The new diesel engine of 148bhp, revised suspension and refined drive and ride all are there to let you enjoy.
This new engine is to coop with the tougher carbon emission standards of Europe. Styling has been focused and with this Mitsubishi has managed to pull more buyers from around the world. While making it stylish basic body and load area has not changed so you need not worry about the utility.
LED lights are placed higher lines on bonnet are new so you can recognize easily the new one if you have seen the previous models as well. Angular fog-lights and grille design may remind you of some other models of the company but this new model has its own peculiarity.
The exterior is impressive with bonnet lines though not for all. These deep lines also make it muscular and robust in appearance which matches the performance. With improved exterior designing, the vehicle now matches its rivals on exterior modernity. A new trim package with top tech features is another attraction for buyers in the United Kingdom.
Reconditioned Mitsubishi L200 engines are also available in the market and their price makes them affordable for those looking for a used engine for their vehicle. Mitsubishi supply and fit service let you get installed used engine to replace your problematic motor.
Mitsubishi SDA touch-screen infotainment system
The interior of the vehicle is not as good as it should have been as you see more hard plastic than the outgoing model so overall impression suffers. Dual-zone climate control is there to ensure comfort for all occupants of the cabin and the Mitsubishi SDA touch-screen infotainment system is another big advantage for the buyers.
While rivals try to bring a car like sound to their pick-up trucks Mitsubishi has brought nice stereos of its own cars. Tailgate lift assist is only for high tech models though it needs to be standard throughout the range.
The previous 2.4-litre power unit was capable of 178bhp but a small reduction in output is necessary for a new model to meet the criterion set by European standards. When it gets to a nice speed of 40mph engine becomes smoother.
Fuel economy is impressive
Fuel economy is impressive and it is definitely a sigh of relief after owners of powerful pick-up trucks. Bigger vehicles with powerful drive possibility always fuel thirsty but if their power units consume fuel intelligently then buyers feel satisfied with their choice.
Another concern is safety features so you could have a feeling of being protected by the car company. The overall design is modern and with some new changes it is more contemporary, ride comfort has been enhanced by revising suspension and a new engine with reduced emission are to keep the vehicle in competition.
Some improvements were compulsory while others made to look it a new L200. Over the decades it keeps evolving to meet modern-day needs as well as modern technology introduced to push competitors to offer buyers better vehicles. Mitsubishi L200 is a Pick-up truck which is used in multiple ways so no one can deny its utility.