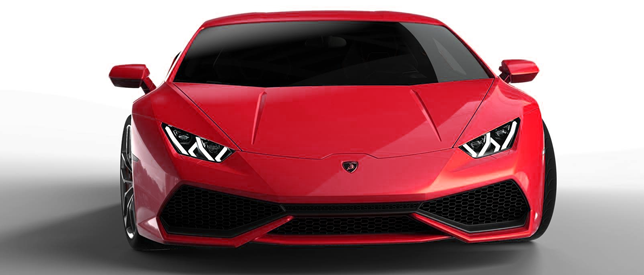 20

Dec

13
Just days before the official launch of Lamborghini's new Gallardo successor, first official pictures of Lamborghini Huracan have appeared online. The number plate confirms it will be called Huracan. The overall shape isn't too much of a departure from the Gallardo it replaces, while the front end takes its inspiration from the Aventador.
The interior for the new car seems to be inspired from the Aventador as well with a digital instrument cluster and a fighter-jet-inspired starter button, hidden underneath a flip-up cover. The Lamborghini Gallardo has been in production for over ten years now and its replacement the Huracan is starting to take shape, with an official revealing soon.
The newcomer is expected to share a platform with the next-gen Audi R8, meaning a possible aluminium spaceframe construction should be far lighter than what lies underneath the Gallardo. Under the hood, the Huracan will use a heavily modified version of the 5.2-litre V10 engine from the Gallardo with power expected to be around the 600bhp mark.
The 5.2-litre V10 that powers the current LP 570-4 will reportedly feature in the new model, but it will be tweaked to produce an additional 38bhp, increasing its output to 600bhp with low revisions. A new gearbox with a new seven-speed dual-clutch transmission replacing the old e-gear system which means the Huracan hit 62mph in just above three seconds with a top speed of 200mph.
Rumours say that it will be priced at around £165,000 and will be revealed at the Geneva Motor Show in March. Lamborghini is expected to launch a Huracan Spyder as well after the coupe has been revealed but how long it will take for one to be launched is not known.