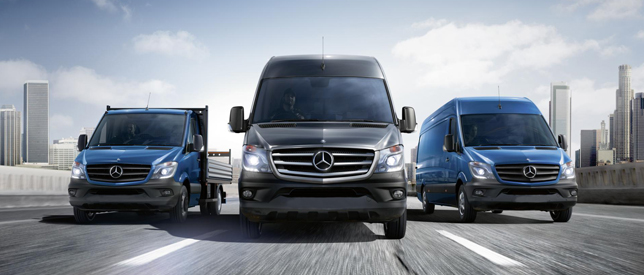 6

Jan

17
The Mercedes sprinter gives a supreme touch to the large vans available in the market, with its different body styles
Drive with style
For a number of years, Mercedes-Benz has led the way with safety standards and its unique techno vision in their commercial vehicles.  Since 1995, Mercedes sprinter has been offering a well practical boxy panel van under the badge of three pointed star for different nations, different geographical conditions with extreme weather conditions.
Sprinter's history has been as rich as its versatility in different shapes and usage for decades. It has gained a lot of popularity for the company and now its name is as known and regarded as its big rival in this queue, Ford Transit.
Generation Phases of the Mercedes Sprinter
The first generation sprinter was launched in1995 and it was a good and healthy replacement of Mercedes –Benz TN.  It is also known as Dodge sprinter, Freightliner sprinter, Mercedes –Benz transporter TN 1 sprinter, Mercedes -Benz sprinter classic and many more names in the different parts of the world.
There are two main power train phases of this production, phase 1 starts from 1995 and ends in2000 with 2.3-litre diesel 14 OM 601 79hp, 2.9litre 15 OM602 102 hp turbocharged diesel engine ( available with different version 0f 129 hp) and at last of this phase 2.3litre 14M 111 Phase 143 hp DOHC 16v MPI.
Phase 2
Phase 2 starts from 2000 and ends in 2006 with high standards of engines consist of 2.1-litre 82hp CDI of different capacity with 109 hp and 129 hp. Then Mercedes sprinter introduced 2.7-litre with 156hp CDI and at the end in line the 2.3-litre 143hp DOHC 16v MPI. Both these two phases of power trains of Mercedes sprinter were available with 5-speed manual transmission and also in automatic transmission. The Mercedes –Benz sprinter received a little change in its 2014 model, bringing a new front end, a navigation system and a new 266 lb/ft of torque 2.1-litre turbocharged diesel 14 mated to a new seven –speed automatic (the turbocharged diesel V-6 powertrain remains the same).
In the year of 2015 sprinter 4×4 was released, powered by V-6 turbo diesel engine. In all over the world the most powerful engine in any van is in the Mercedes sprinter, in the shape of the 190 bhp 3.0-litre V6 CDI diesel. It just trails the 3.0-litre twin turbo diesel in the Iveco Daily, which delivers 205 bhp and also has the edge on the torque. The van manufactured by the company for the extreme weather is equipped with 3.0-litre Bluetech diesel engine and diesel (unlike gasoline, which remains a liquid until -45) can start to crystallize once the temperature dips below zero. Special anti-gel agents have been added to the fuel to prevent this; diesel also ignites through compression rather than spark, which can be almost impossible if the engine block freezes, so sprinters are fitted with diesel pre-heaters, which can be set to come on roughly half an hour before start –up.
For more engine choices, the sprinter is currently offered with V6, diesel engines, V6 petrol/gasoline or liquefied petroleum gas (LPG) engines in Europe, Asia, Australia and South America. An electric hybrid version has been tested.
The sprinter comes with a choice of nine body style. There's a standard panel van, traveliner minibus, a dropsied pickup and adaptable chassis cab. Each is available in a range of different body lengths and payloads vary accordingly.