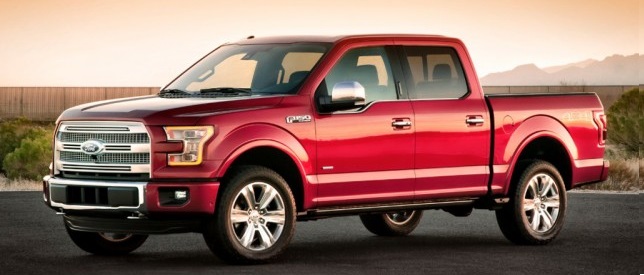 25

Aug

14
Some customers have ordered customised Ford F-150 trucks that will soon go into production at Dearborn Mich., plant but buyers won't get their hands on bespoke F-150 till summer next year
Ford says that some of their 'the best truck customers' will have to remain calm and wait till next spring to get their hands on Ford F-150 truck with specified features and attributes. The regular production of Ford F-150 trucks will start soon and the Dearborn Mich., production facility, which will host the entire production process. There are three consolidated groups of customers who are looking for their orders, first group belongs to the ordinary model buyers who fortunately are lucky enough to get their trucks very soon.
Ordinary production will start first for dealer's inventory only. Second buyers group is the Fleets; they will enjoy big discounts on buying multiple vehicles at a time. Thirdly; custom-order buyers, who want to buy custom made trucks with hefty aluminium in body work, specified colour schemes and specific equipments and accessories. This is the most delayed segment of buyers because they will get their F-150 trucks way after February, next year.
Ford has informed their dealers through a letter in which they said, "We understand the desire to get the customer units as quickly as possible, but do not want to compromise our commitment to quality for the sake of a few additional weeks of delivery."
The F-150 truck is designed to use light weight aluminium body to keep its weight low and powerful Ford engine to make it agile. This aluminium body is feasible to decrease almost 700 pounds of kerb weight without sacrificing the toughness of body. The light weight truck would be a big advantage to business users as well as a strong lure to personal-use buyers where it will help them increase fuel economy, up the payload capacity and towing ratings. It also can easily beat the higher number of rivals.