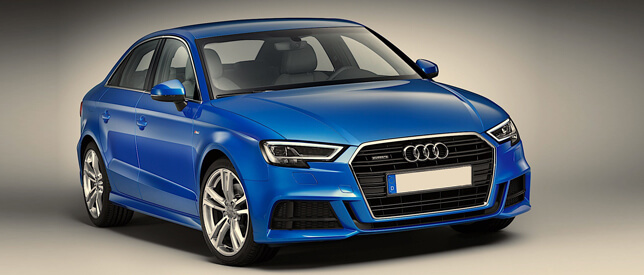 20

Jun

16
The 2017 Audi A3 Facelifted
Audi A3 has gone through a mid-cycle refresh for the year 2017. Gear up for the all new Audi A3 which gets its refreshed look from the facelift and a high-performance engine for its latest models. At the international launch event, Audi unveiled five models for the upcoming year and they would hit the dealerships around September.
Audi A3 saloon comes in two different driving configurations, S3 Saloon, the A3 convertible and E-Tron Sport back plugin hybrid is the models offered and all of them contain fully charged four cylinder turbo engines.
A3 Engine: Then and Now
Today we live in the age where the trend of heavy cars with huge fuel consumption is far from over instead the world has moved towards optimum sized luxury cars which have smaller engines with low emissions and rational performance. Reading the consumer demand curve efficiently, Audi has refined its engines and they have surprisingly emerged to be very impressive.
The engine closes its intake valves earlier when it is in the compression phase than a normal car engine. The turbocharger helps the engine to minimize the power losses as it lowers fuel consumption by getting more energy out of each cylinder's combustion process. This is a high definition engine which is equipped adequately to achieve maximum efficiency.
In the situations of low load, the engine supplies an extra surge of fuel-injection from its indirect fuel injection system before the air-fuel mixture even makes its way to the combustion chamber. It also makes use of its thrilling variable valve lift that enhances the performance of the engine by reducing intake time on part throttle. The intake time is lessened by 170° in heavy load situations as well rendering enhanced capability. It is worth knowing that the extremely productive engine gives a mileage of more than 200 km.
A3 Saloon Engine
A3 saloon is subjected to some meaningful changes making it better than ever before. The current model uses 1.8-litre turbocharged four cylinder engine producing 170 horsepower, a six-speed automatic dual clutch and a front wheel drive. In the upcoming model, however, the specs are somewhat different. The 2.0-litre engine makes 186 horsepower and a new seven-speed dual clutch.
Engines of Other Models
All the other models have seemed to retain the six-speed clutch. New models have a lot to offer; the A3 saloon Quattro with 2.0 litre producing 220 horsepower. The A3 Quattro cabriolet has the same great engine as before, S3 Quattro saloon with 292 horsepower. The A3 sport back E-Tron contains 1.4-litre hybrid four-cylinder producing 204 horsepower hybrid and is front wheel only.
All the new models are a real charm for Audi fans and Audi has made sure not to let down its followers and drivers. It offers cutting edge technology and an enhanced more powerful engine which is a treat for its lovers and a huge challenge for its competitors. Drivers are sure to enjoy its smooth crisp drive.