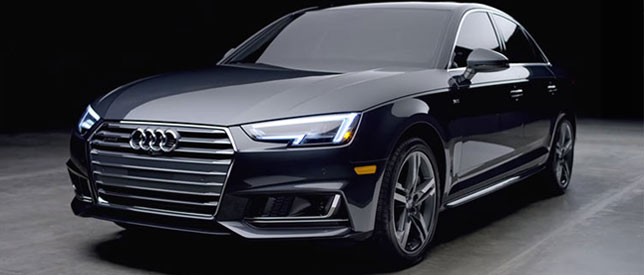 23

Sep

16
A4 is available in more varieties with prodigious engine and offers front wheel drive and all wheel drive
If you want to feel like a star then without any delay, be an owner of Audi A4. Audi A4 is a German car, introduced by the manufacturer Audi in October 1994. It is available in different models including A4 Saloon, A4 Avant, A4 All road Quattro, S4 Saloon and S4 Avant. The four-door saloon is the most famed body design in the Audi A4's family.
Designing
Audi A4 is appreciated for its finest design and incredible technology. The A4 is fine, quick, exquisite and sporty. Though the exterior is somehow simple but its interior is striking and classy, with materials that are thrilling to observe and touch.
It is spacious and comfortable and that's why Audi A4 is fun to drive. All A4 models come with 3 years warranty and have the ability to compete in the tough market region.
So it is not wrong to say that Audi A4 is the backbone of all Audi's luxury vehicles. One of the biggest achievement of Audi A4 is it weighs less than all its challengers. Safety is obviously high on the priority list of Audi A4. It gets notable brakes, which provide surpassing pedal feel and strong stopping power.
Engines
While observing Audi A4 engines more acutely, Audi asserts the new engines are up to 21% more fuel economical than those in the previous model. From the launch, the A4 has been available as three TFSI petrol and four TDI engines diesel, with power outputs ranging from 148bhp to 269bhp.
The chart-topping engine is expected to be the 2.0-litre diesel engine with 148 or 187bhp and 3.0-litre diesel with 268bhp. These engines give us combined economy figures of 74.3mpg and 70.6mpg respectively and have low emissions of 95g/km and 99g/km of carbon dioxide.
Both the 2.0-litre engines are suave and sophisticated, delivering enough performance. Top of the range is 268bhp 3.0-litre V6 diesel model. It's the only model which offered Audi's eight-speed tiptronic gearbox as well as Quattro all-wheel drive. That blend makes it the fastest A4 presently on sale, with a 0-62mph time of 5.3 seconds. The higher-powered model develops a 400Nm of torque so strong acceleration is delivered from low speeds. It'll hit 0-62mph in 7.7 seconds.
The A4 engines are remarkably refined so even if the speed is too high there will be very less or no noise. The activity executed by the engine is good and returning over 72mpg means it's fast and economical.
It gathers speed slickly and the V6 engine is super smooth and reactive. Its muscular hit of torque – 600Nm ­– is perfect for far distance travelling, impelling you along easily at the bend of your right foot. Returning over 54mpg is good going too.
To sum up, we can say the production of Audi A4 in the world of advancement is nothing less than a miracle. And if you don't believe in miracles then first try Audi A4.