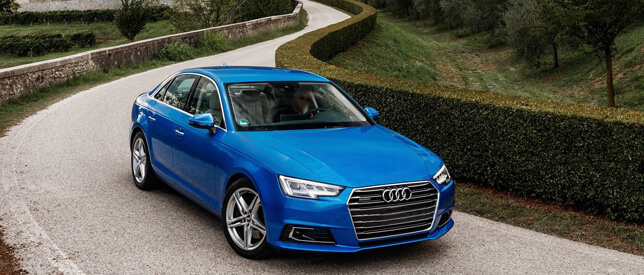 29

Jun

16
The Audi A4 has a Powerful Engine
Audi, the German automobile manufacturer, has long been known for its stylish and luxurious vehicles. New Audi offers cutting edge technology, more space, reduced weight and more productive engine and is a serious competition for the adversary and is a lavish feast for all the car lovers. The car is tempting because of its highly efficient engines, improved interior and high tech advancements.
Design features and details
The new Audi A4 2016 is one of a kind. It might look similar to the previous model but in reality it is almost 90% new and improved with its features. It encompasses a lot of revolutionary changes in its interior as well as exterior design.
Exterior design
Due to its shape and fine details, this car is a perfect mix of comfort, luxury and technology. The car boasts of having sleek and sharp creases in its exterior body. It also exhibits a wider radiator grille. Revamped car with its weight cutting construction has shed several kgs.
The new front wheel drive MLB EVO platform helped throw away unnecessary weight of 65 kg. The model boasts same angular and narrow LED headlights. The curves and creases give it a more masculine look. The ride is available in two adaptive damper systems that tend to lower its height by 23mm and 10mm as compared to the standard suspension.
Interior design
Audi's benchmark interiors have always been a prominent feature and this model in particular has just taken it to an entirely new next level. The interior on the other hand has been subjected to heavier redesign. This car is 16mm wider and 25mm longer than its predecessor providing ample room for head and knee for the passengers to easily settle in.
The new Audi is the first car with the technology that warns the driver that a cyclist is approaching before getting out of the car. Adaptive LED headlights with advanced matrix beam are very impressive that catches information from car sensors and satellite navigation system.
The MMI navigation and infotainment system is a salient feature comprising of 8.3 inch screen, MMI touchpad, 10GB music storage, live traffic updates and new smartphone interface. Car's voice control system is enhanced and can understand natural phrases like "Where is the nearest school?" Three zone climate control system has charcoal filters that is capable of effectively filtering any impurities in air.
Engine Specs
Keeping in view the popularity of diesel engines among UK buyers, the latest model of A4 will use 1.6 and 2.0 litre diesel engine that are either brand new or are subjected to major revamp.
Audi A4 is available with three petrol engines. One of them will be entirely new 1.4 litre TFSI engine with 148bhp and has the ability to return 57.6mpg and causes an emission of 114g/km CO2. All new A4 is available with two different options. Either a six speed manual gearbox or a new seven speed S tronic automatic one. Modifications have yielded a more efficient engine consuming just 5.3 litres/100 km with 119g/km CO2 emission.