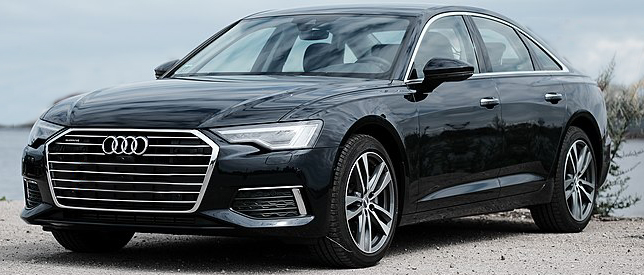 18

Jun

21
The car with so many aerodynamic sharp lines get sporty bumpers too
Audi A6 has come with h engines to address environmental concerns and decrease fuel usage. For a car of luxury saloon class it needs to be comfortable and spacious, Audi A6 offers generous space and very cosy seats. While doing so Audi has missed the trick of sporty character and rivals are sportier than A6.
Standard specifications cover all basic needs but optional features always appealing. You can add them but the price of these are high. The standard kit of the car is rated as generous so normally buyers happy with the offerings. Diesel engine model 40 TDI S Tronic has auto transmissions and a very good fuel average.
For great advantages like innovative tech features and roomy cabin, Audi A6 easily among the top options of buyers. Though the car is not a sports saloon still it has a sporty feel in quick speed pick up and handling. Audi S line models in particular have this flair in body design and driving.
The two other German luxury carmakers produce rivals of A6 but in appearance, this saloon has beaten both of them. The car with so many aerodynamic sharp lines get sporty bumpers too. The exterior of the car pleases the buyers and they feel urged to sit on the driving seat. The interior is plush and outstanding. Reconditioned Audi A6 engines are best for their brilliance.
The use of high-end materials and finishing quality is remarkable. Seats are comfortable and due to the excellent suspension of the car, ride quality remains at its best. Both rows of seats offer ample space to the occupants.
This car offers you this flexibility
The infotainment system display is large and the shining finishing of the surfaces makes you a fan of the high-tech interior. You can get a display of your smartphones on the screen and control different features including satellite navigation and climate control. The screen is responsive and makes use of features easier.
For a modern-day car it is not good to offer push buttons to control different functions but at the same time using the touchscreen on the move can be tricky. Here on could wish for the rotary dial, a German rival offers. For driver flexibility to make adjustments enhances comfort.
This car offers you this flexibility and you can easily find a good driving position. It is possible for all, either you are tall or not. Tech features of the car are almost identical to the specifications of the A8, this is why the car offers great appeal. Space for passengers at rear seats is ample as well and in fact, you get more space than any other car of the class.
This generous space for passengers does not contract the boot area. You get a decent room for luggage. If you want more space then you can choose A6 Avant because it can afford the bulky item in the boot area. You may need replacement engines for Audi A6 and there are different option present on market for this purpose.
The work of suspension is really good and it keeps the ride comfortable while dealing with imperfections of the road. Suspension in S line models gives you a bit stiff ride experience. For the best possible comfort, you can select air suspension but it costs you extra money and increase the price further. For excellent motorway cruising Audi A6 with optional air, the suspension is ideal.
Rear-wheel steering helps you to control
You can choose from four cylinders and six cylinders units. Diesel unit helps you to cover long distances without heavy fuel bill. Audi A6 has an optional driver assist to pack and experts find it quite important for an enhanced driving experience. Used Audi A6 engine for sale is a cheap alternative to new Audi engines.
If fuel economy is not your main objective, then you can think of the V6 petrol unit model of A6. On the motorway, cruising becomes easier with this optional pack. This pack is capable of accelerating, braking and steering so you can relax on a long journey. Rear-wheel steering helps you to control this car with more perfection.
This feature helps you to manoeuvre on busy roads. Though the car is not a compact hatchback driver assist pack takes a lot of stress from the driver. Reverse camera is standard in all models of A6 so you get the most needed assistance for a car of big size. Audi A6 has been designed to offer you the practical big car with high tech features. The new model of the car has greater appeal for the interior and exterior.
A mild hybrid system has been added
Apart from the driver seat the adjoining passenger seat also gets many adjustment possibilities. Supportive seats also get a four-way electric lumbar adjustment to avoid backache issue. Electric seat height adjustment is possible through optional feature.
A passenger in the middle of the rear seat has to compromise on gear tunnel but legroom is of decent size. A mild hybrid system has been added in all A6 models of the car to improve fuel economy further. You save fuel and keep carbon emission low. Just two exterior paints are free of cost, white and black. All other options cost you extra money and there are many colours you can choose from. The use of aluminium for interior and glossy materials enhances the upscale feel. Leather seats for sport models are standard. At least you do not need to pay more for these features.