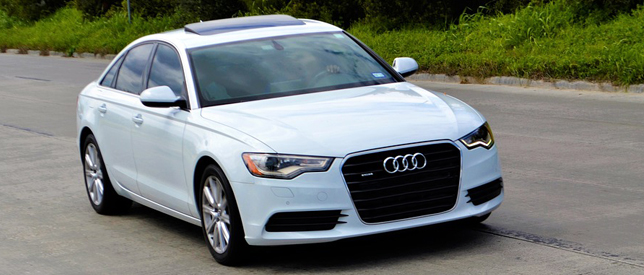 3

Feb

20
The overall image of the car is inspirational considering all different aspects
An aesthetically designed contemporary exterior of Audi 4 with a turbo power unit is not an option to miss. Audi A6 engines are mostly praised for their performance and rightly so as they are gutsy and smart fuel consumers. Tech loaded interior also makes it a modern-day vehicle but ideal features cost you extra.
You also find storage areas not practically designed so do door mirrors to have a nice view around. The overall image of the car is inspirational considering all different aspects. It is a sports saloon and while keeping in mind the price of the car you surely admire it.
It is good to drive, nice to occupy cabin and stylish looking so it is part of everyone's list of options. You come across all the popular tech specs when you first enter the car. Driver assistance is most important and others include the integration of two smartphones through their respective apps.
The layout of the new Audi A6 is better than rivals of BMW and Mercedes at the same time it has a dominating impression of a sports saloon. Two turbocharged engines are offered to buyers which you can have with front or all-wheel-drive configuration.
These four-cylinder units are intelligent fuel consumers and one with greater output surely gives you enhanced acceleration and thrill. It has been a highly sold vehicle in this category of the carmaker and has kept receiving exterior and interior changes.
Lights and grille also refreshed by some tweaks
The latest model of the car has been made to look different from predecessor as it is more stylish and get new bumpers at the front and back. Lights and grille also refreshed by some tweaks and wheel design new so you easily identify the new model and get a push to own it. Used Audi A6 engines are sold by used car engine suppliers in the UK and elsewhere.
People having limited budget usually prefer these units to keep their vehicles in use for the next few years. Among new additions or upgrading, you also get larger 10.1 inches to display for the infotainment system. It is standard so you get reasonably big display as compared to the previous 7.0 inches view.
Some other features have also been added to the list of standard specs. Power sunroof, three-spoke steering wheel with shift pedals and adjustable driver's seat are also available to you without paying extra. Front seats are now heated in all cars of this range with three-zone auto climate control and interior lighting according to you your mood.
Three different models are available and experts suggest a mid-range Premium Plus model with the all-wheel-drive configuration. This model lets you have a four-cylinder turbo engine with the muscle of 248hp so you enjoy driving more than the base level model of the vehicle.
Rivals in this category offer ample choice of engines
Premium Plus package also gives you aides like parking sensors, USB charging ports for rear seats, wireless charging pad, driver seat memory to let you have a perfect driving position, blind-spot monitoring and keyless entry with push-button ignition.
These aides cost not a lot but you surely feel good while driving with all this stuff. Prestige pack, on the other hand, costs you much higher than entry-level Premium pack so experts rightly recommend this model for a balanced combination and affordability.
Rivals in this category offer ample choice of engines but Audi has kept it simple so you will have either 188hp with high fuel average or the more powerful option of 248hp and fuel consumption bit higher.
Seven-speed auto transmissions are standard with FWD but you can opt for exciting drive configuration AWD. Audi Quattro Prestige managed class-leading acceleration figures of 5.2 seconds from a static position to 60mph. While reaching from zero to the formidable speed mark in just above five seconds it acts smoothly so you enjoy pushing the pedal.
These handling characteristics allow you to drive
Used engines of Audi vehicles are also sold by Audi engine suppliers and you can get them at a reasonable price. These power units are an immediate and handy solution for your problematic cars so people keep installing them. Steering is perfect in weight and response so you find driving this new model nothing less than fun.
It is called a sharp handler as motions are subtly controlled and road grip is great. These handling characteristics allow you to drive this vehicle with greater confidence. Ride quality is up to mark so sharp handling is not alone it has been combined with passengers' comfort.
Road bumps and potholes are absorbed well as the suspension does not let them unsettle cabin occupants. Interior has been built with fine material and tech features are placed in easy access of person on driving seat.
Cargo space is good but for the capacious trunk, you have to look at other options of A6. Back seats can be folded to enhance room for your gears.