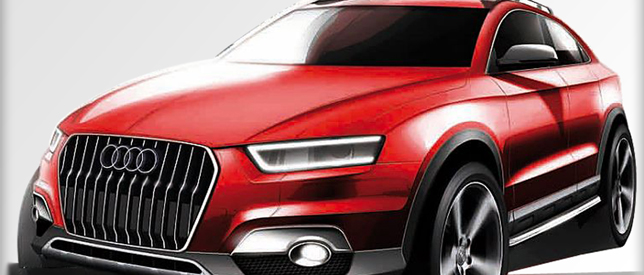 3

Dec

13
Audi looks towards the Future with new Q1 launch in 2016
Audi is set to launch a new Nissan Juke rival, which will join the range in 2016. It has been named as the Q1.  It is an SUV and will sit at the bottom of the lineup. It will be targeting Nissan Juke customers who want something more upmarket. Q1 will be based on the VW group's MQB platform, which will also be used in the all-new VW Polo set to be launched in 2015. The Audi engines that Q1 will have are the same ones used in A1 supermini. This means a range of petrol and diesel engines with stop/start technology will be available from launch. There is a strong chance that a three-cylinder 1.0-litre petrol taken from the VW Up! will also be utilised in the Q1.
Q1 will also use the plug-in hybrid system currently found in the A3 e-tron to give the Q1 sub 25g/km CO2 emissions. Q1 is likely to have a six-speed manual gearbox as standard with the 10-speed DSG gearbox as an option. The interior will be same as used in the current Audi range and will probably include a touch screen interface.
Commenting on the decision to put the Q1 into production, Audi chairman Rupert Stadler said: "The Q1 is part of our broad based SUV strategy and a key component of our growth strategy." Audi is adding Q1 to its line up as part of an expansion plan to add more cars to its range. It plans to have more than 60 models in its line up by 2020. Audi currently has 49 vehicles in its range. There is no confirmed price but expect it to be around £16,000. BMW and Mercedes are also planning to launch entry-level SUVs, likely to be named X-City and X-Class.