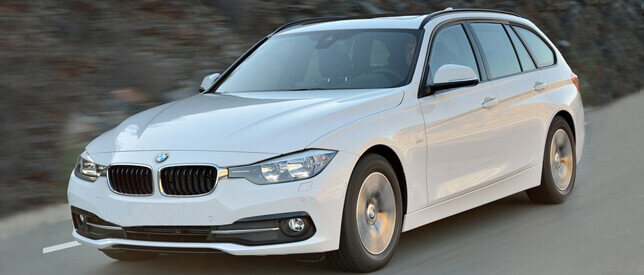 25

Apr

16
BMW is trying to get buyers back in torque with the all adored 3-series
With BMW 318d a loud shout came and that was "wagons are back". Looking much better and could easily be claimed as a vehicle that would bring buyers back in the queue. Sales of wagon are climbing not only for this particular car maker but for the rest as well. With comfortable seating and space in rear these wagons become more attractive for touring purpose.
In 2015 model there are many additional features like front and back parking sensor, top view camera and adaptive suspension. The tailgate can be opened as a complete unit and glass panel independently as well.
BMW 318d is heavier than the sedan and also less slippery while driving. That result in being less economical as it consumes 4.7 liter per 100km. Engine of the wagon is 2.0-Liter Turbo that produces torque of 320Nm at 1750pm. There are eight automatic speed transmissions. With these specifications you can imagine that it is a small wagon with smooth and easy to drive features.
It is not high speed machine but economical and run at quite reasonable speed within city and in suburbs. When you switch from comfort mode to sport it starts running faster but remain comfortable for the riders at front and on rear seats.
Efficient diesel engine of the vehicle certainly makes this little wagon a priority choice. When it comes to technology advancement and a good driving experience this wagon have both to be one of top few choices of a buyer. When compared to previous versions it has come up with many distinctive qualities for a better road experience. Smart look of exterior when coupled with bright interior then it offers an awe inspiring look to everyone. Better engine performance would turn this model into a great success for the car maker.
Interior has been an issue for the families with naughty and messy kids as the colors are lighter to make it more spacious and brighter. There is enough room for rear seat riders as well. There is 6.5 inches navigation screen and optional camera as well. A good space for cargo makes it a perfect touring wagon. With new features it has become quite appealing though it is still not cheap for those who are interested to buy a touring wagon. So it is not only for the families but a touring wagon that could appeal anyone.