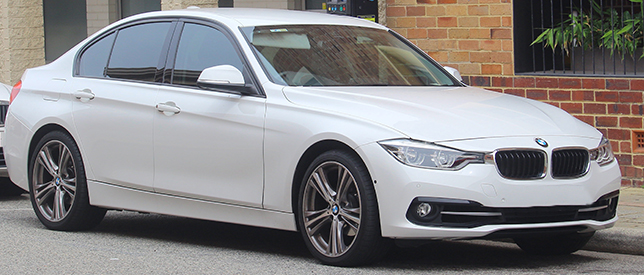 11

Sep

19
Features are notable but the engine is even more
With BMW there is nothing less than perfect you are going to experience. There is class and with it, you are going to get an excellent driving experience. There was a time when people were crazy to get a BMW.
Some of them still are but now other companies are also there to provide what they needed in a car. But still, the charm remains. With BMW 318i you are going to get an exterior which is nothing new but still, it attracts the loyal buyers or the ones who like cars in there old designing.
Still, the exterior is not old it has the latest BMW body. Then for the interior as always the quality is high for the materials with which it is made but the environment is boring. Still, it fits the families who want their car to be sober from inside.
If used as the business purpose it then also fits the criteria. Apart from looks, there are equipment and entertaining tools to cover the present time needs and also the safety side is covered well. As for the engine, there is a very capable engine ready to give a refined drive in town as well as on the highway.
BMW engines for sale makes your search easy when finding an appropriate engine replacement. The replacement engines BMW 318i which these dealers' sales are a very good alternative for your urgent engine change.
The 3-cylinder engine
Mostly the BMW sedans or saloons are powered by four-cylinder engines but this base trim has a 3-cylinder engine. The capacity is 1.5-litre and that comes with 100 kW of power and 220 Nm of torque. The number of torque covers that less power generated.
This torque becomes available from 1250 rpm and the power comes by 4500 rpm. There is an eight-speed ZF automatic transmission attached to the engine which works pretty well. The engine responds quickly to speed changes and it does not mind at all when the driver wants to push it further for more than the limit.
It is hushed to a maximum level it can be. You may even think of the car switched off at times which it is not. On the road, it is amazing; giving the driver a chance to experience what this brand is all about.
Even in this starting trim, there is enough charge to make an easy take over on the highway. The original engine is, without doubt, the best but when you are having trouble with it then BMW 318i engines rebuild can become a good choice.
A rich feature list
There is nothing which can stop this one from convincing the buyer that it is a worth taking risk. To start with the standard equipment there is going to be a head-up display, 360-degree camera with an overhead view, cruise control with the ability to control speed, lane change warning, sat-nav with live traffic updates now and then.
Accompanying these are present parking sensors front and rear, cruise control with braking and climate control. These are the highlights of the features as standard. There are also options present which can make your car as you want it to be but it will come with a cost.
As you load the options the price starts to climb and these options may make you empty your pockets. So better to stick with what you have before.
Cabin environment
The cabin is peaceful but boring. You will get this first impression when entering for the first time. This is true to some extent but still, there is a neat and tidy layout on the dashboard. The graphics on the screen are clear and coloured giving a real-life experience.
The seats are comfortable yet supportive with high-quality upholstery. The driver's seat has full-scale adjustments to give the driver a proper driving position. The boot space is not bad at all but still, it can be improved. The legroom at the back do suffer a little but still, it is better than some rivals.
This can also be enhanced more as there are saloons in the category that has more backspace than 318i. Overall the cabin environment is good enough but still, this base level needs to get some more touches to give a better look of a luxury car.