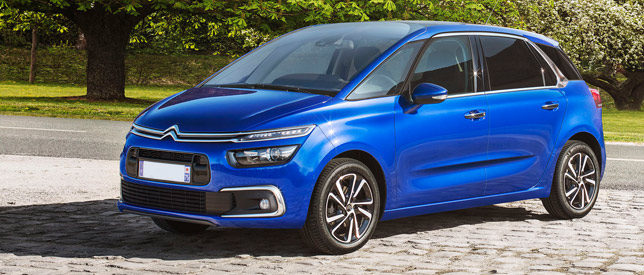 7

Feb

18
Its practicality is impressive
Latest Citroen C4 Grand Picasso is an interesting MPV with lots of tech
Citroen C4 Grand Picasso is a good addition in MPV class. It offers good seven seats sitting arrangement with nice practicality. Its stylish body structure is good looking and impressive. It is big and well built MPV. Among other MPVs of the market Citroen also relies on its diesel engines.
Though there is huge engine line up with good petrol engines but diesel engines have worth. Its body structure can be easily compared with concept cars of the day. It offers great driving experience.
Engine range is great with good performance
There are 1.2-litre, 1.6-litre and 2.0-litre petrol and diesel engines are great to perform with reasonable fuel consumption. Best of all engines is a diesel engine. It is a regular 2.0-litre diesel engine with 147bhp and 275lb/ft torque. It is great in response and offers good performance. It takes 9.9 seconds to reach from 0-62m/h along with the top speed of 130m/h. Its economical fuel consumption makes it a sensible choice for an MPV.
It offers 65m/g of fuel average along with 110g/km of Co2 emissions. It is fitted with a six-speed manual and six-speed automatic EAT transmissions with front wheel drive option. This diesel engine offers a good time to be with it. It is good in low and high revs. It is very smooth and quiet in response. In Automatic gearbox assembly, it performs brilliantly. MPV like Citroen C4 Grand Picasso enjoys this type of diesel engine with a reasonable healthy response.
Exterior and interior are great
Citroen C4 Grand Picasso has excellent interior and dashing exterior. Its appealing look is not only impressive but practical as well. Its front is great to look. Citroen emblem looks great. Front hood and its lid is of good style. Sides are impressively molded with the aerodynamic pattern in them. Front windscreen is good infix front pillars don't create any hurdle in viewing outside from driver's seat. The roofline is flat and with good headroom underneath, in the cabin. The tail is good. LED daytime running lights and front headlamps are of great style. Its exterior is just like concept cars, fanciful and imaginative. Interior is great style.
The dashboard is fully equipped with lots of control, switches and buttons. The infotainment system is good. The steering wheel is in good high position offers great control. Seats are great on stuff. Inner environment is good and it is very good to be in it. The noise-free cabin is impressively knitted and arranged.
Features are great for good practicality
C4 Picasso is a big MPV with ideal features in it. It is fully equipped and featured vehicle with outstanding practicality. General features are great to use and stuff is extraordinary. Quality and standard of features are absolutely fine.
MPV should be practical and C4 Grand Picasso is a practical vehicle. Its features offer a good experience for touch and use. Its rivals have all features and equipment in them but Citroen has used them in a new dimension. The good practical approach of all features enhances their importance.