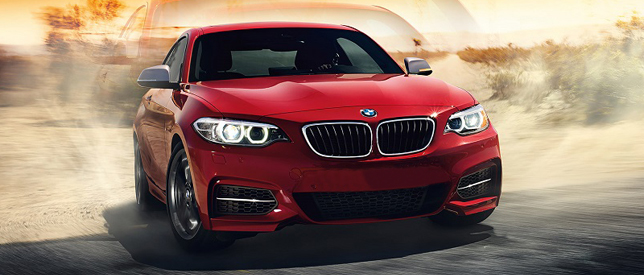 26

Dec

16
If your answer is yes, I am going to put an end to your quest. Yeah, here it is; BMW 220i from the 2 series with the energetic engine and premium styling.
It has been rightly said that life is a race. Yes it is, from the simple acts of sleeping and walking; from the cradle to the grave: life is a race. Everyone is engaged in daily life activities, in fact, everybody is going at the pace of a gallop every time. In order to meet the hurries of life, you must need a car which is fast enough to run on the road and has an attractive sexy body. With powerful and smooth engine, BMW, a venerable German automobiles and jet engines manufacturing company, brings you a smart, roomy and classic car with appealing exterior and elegant interior. BMW 220i coupe is from BMW 2 series, and it is quite impressive and striking car. So, let's go.
Certainly at 1335kg and with 135kW and 270Nm, the smart 220i Coupé is light, nimble and muscular. Particularly designed to be exciting and affordable (according to BMW standards), there is really a lot to like about this car. The least expensive of the three-model lineup, the BMW 220i is powered by a strong 2.0-litre four-cylinder turbocharged petrol engine. An eight-speed automatic (non-manual) with paddle shifters is standard, although a six-speed manual is a no-cost option. The car will easily accelerate to 100km/h just in seven seconds all thanks to the standard inclusion of launch control.
Internal and external features of BMW 220i:
This vehicle is perfectly equipped with a high standard of safety equipment. ABS, traction and stability controls are hoped, but there are also head airbags for front and back passengers, plus side intrusion airbags especially for the front two seats. BMW also involves its Cornering Brake Control system, which asymmetrically exerts different brake pressures to the wheels in difficult braking circumstances.
As standard are 17-inch alloys ideally surrounded by BMW's run-flat tyres, though the vehicle tested was fitted along with optional 18-inch rims. Furthermore, it has most of the appointments expected in a luxury car – dual zone air conditioning, satellite navigation, excellent sports seats, phone connectivity, a great stereo and mostly automatic everything.
Engine of BMW 220i:
Unfortunately, many other great features are somehow expensive options. Items like heated and electronically adjustable comfy seats (part of the Comfort Pack), a reversing camera (part of the Advanced Parking Pack), real rather than faux leather, and the 18-inch alloys all add up fastly. This car was fitted with many extras. Fortunately, the car's good economy of fuel keeps it completely out of the luxury car tax bracket (which is about $75,000 for cars which use less than 7.0L/100km), unless you actually go wild ticking boxes. Questions of value aside, the 220i is a seriously pleasurable car to drive.
Although its low-end performance isn't quite exhilarating, keep it high in its rev range and the BMW is smooth, responsive and thrilling. Gear changes with the auto are really swift, and switching the car to Sport Plus mode puts you in complete control. There is little evidence of turbo lag. Even better, the powerful engine is reasonably economical, using only 5.8L/100km on the highway test and a little over 7.5L/100km around the town. BMW 220i makes a mammoth 184 horsepower and 366 Nm (270 lb-ft) of torque from its 2.0-liter four cylinder-turbo-charged engine, which is quite impressive.
Handling:
Handling is likewise, exceptional. The steering is very much responsive – in fact, there is no free-play in the wheel at all – and the suspension is elegantly tuned for fast, flowing corners. The 220i stays prominently flat through corners and its grip and composure create confidence. In spite of that, its around-town ride is quite acceptable.
There is very little bit of harshness in the suspension, and any that was obvious was attributable to the run-flat tyres. These also can experience a little noise when the road surface is rougher. And although quite good, the testing team did remark that the brakes missed the initial bite preferable in a sports car. In terms of handling and engine performance, it's hard not to compare it to the Toyota 86/Subaru BRZ – all the three cars were built with a quite similar mindset.
Comfort:
Comfort for front seat passengers is indeed very good. The leather clad sports seats are marvellously supportive, while the low driving position really suits the car. What stands out is in fact the attention to detail. There is a small cavity in the center console that simply fits the key fob perfectly. There's also a bonnet catch that utilizes a double-pull, so owners surely don't need to get their hands dirty looking mainly for the under-bonnet safety catch. And the cruise control clearly remembers what speed you had it set to, even after you have turned the car off. It's in this sophistication that you really check the difference between it and the cheaper Japanese coupés.
The back seats, however, in real words, are symbolic only. They are not practical for the adults, usually due to the space and head height limitations; nor are they any good for the children as it's a two-door car. The boot is quite good, although, and the seats can easily fold down if long items need to be carried.
What we say about BMW 220i?
Overall, the BMW 220i Coupé is undoubtedly an exceptional sports car. It mixes exciting driving dynamics with impressive fuel economy and the sort of luxury typically expected from a premium German brand. Although there are also far less expensive coupés that come close to it for both performance and handling (and standard features too), it is quite set apart in its interior sophistication, technological inclusions and its stylish good looks.
Therefore, BMW 220i coupe is a smart and practical car which you need to overcome daily rushes. Now, what do you think about this little monster?